None of the three crew members of a South African Civil Aviation Authority flight-inspection aircraft survived after the aircraft came down shortly after take-off from George airport.
The aircraft, a Cessna Citation II, came down in mountainous terrain after departing George at 10:40 on 23 January. It was due to conduct calibration work for the airport's navigation systems. Wreckage was discovered at 13:40.
Weather conditions at the departure time, according to meteorological data from George, indicate good visibility and no adverse conditions.
Speaking during a briefing, South African CAA director of civil aviation Poppy Khoza said: "Usually it's the SACAA, as the regulator, that has to speak on accidents that occur in the industry, but not one of our own.
"This is the first such accident involving an aircraft that belongs to the SACAA."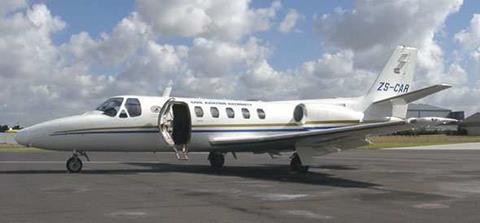 She says the authority currently has "no details as to what could have caused the accident", but states that none of the "greatly experienced" crew members - a captain, first officer and flight-inspection specialist - survived.
Khoza says that regular maintenance was conducted on the aircraft, in line with safety requirements.
She adds that she is "quite confident" that, while the SACAA is the country's investigating authority, procedures will maintain the independence of the inquiry.
The captain, formerly a South African Airways and air force pilot, had close to 5,000h of flight time while the first officer, also previously an air force pilot, had over 1,000h.
Khoza says the inquiry aims to produce a preliminary report into the crash in 30 days.