One of Oman Air's aircraft has been damaged by runway debris while landing in Iran, forcing the grounding of the jet.
The Boeing 737-900ER had been operating the carrier's WY2435 service – a chartered flight – from Muscat to Shiraz on 15 May.
Oman Air says the twinjet sustained damage "caused by debris on the runway" during arrival, without detailing the nature or extent.
The aircraft (A4O-BI) had landed on Shiraz's runway 29L.
Oman Air has been the sole operator of the twinjet since it was delivered to the carrier in 2014.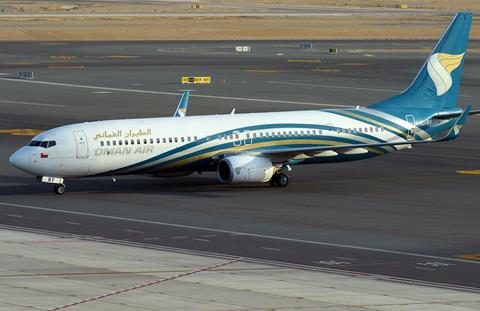 "Our engineering team is undertaking the necessary measures to safely bring the aircraft back to Muscat," says the airline.
But it says the aircraft is being "kept grounded" owing to "paramount safety considerations".
Oman Air had to dispatch another aircraft to return passengers to Muscat.
"While the incident was outside the control of Oman Air, we sincerely apologise for any inconvenience caused," it states.
"Our priority at all times remains the utmost safety of our valued guests and crew."