Romanian investigators are analysing overhaul processes applied to the outer cylinder of an Omni Air International Boeing 767-300ER which suffered a landing-gear collapse at Bucharest last year.
Metallographic examination of the cylinder in Seattle has revealed fractures consistent with initial overheating damage followed by the propagation of hydrogen-assisted cracking, says Romanian authority AIAS.
Beneath the chromium layer, it adds, the examination found "numerous" areas of damage to the base metal adjacent to the fractured area.
AIAS says a detailed report on the outer cylinder's condition is being drawn up, while the inquiry is probing the processes and procedures applied to it during the landing-gear's last maintenance overhaul.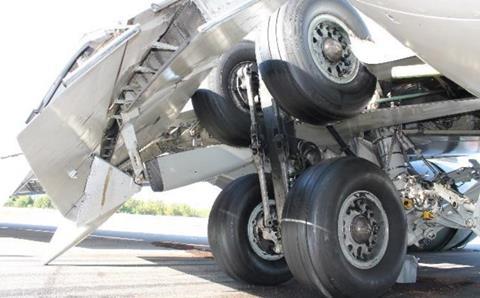 The aircraft (N423AX) had been operating a service from Kabul, in Afghanistan, to Washington on 28 August 2020 and was conducting a technical stop at Bucharest's Baneasa airport.
Although the ILS approach to runway 07 was stable, says the inquiry, and the 1.6g touchdown took place in the correct zone, the left-hand main landing-gear collapsed shortly after the runway contact.
This resulted in the aircraft's rolling out on its left-hand engine nacelle, and the forward wheels of the collapsed gear assembly.
AIAS has yet to finalise the investigation. None of the aircraft's 64 occupants was seriously injured.