Operators of the re-engined Embraer 195-E2 regional jet are being instructed to limit thrust and climb settings at high altitude, to address concerns over the possibility of uncontained engine failure.
The directive from Brazilian aviation regulator ANAC follows a series of low-pressure compressor rotor failures on Airbus A220s, which are powered by the Pratt & Whitney PW1500G engine.
Embraer's 195-E2 is fitted with the Pratt & Whitney PW1900G which has a similar architecture to the A220's powerplant.
"Similarities in type design make the [PW1900G] susceptible to the same unsafe condition," says ANAC.
High thrust settings at high altitude have been shown to be a "contributor" to the A220 incidents, it adds.
Operators of the E2 are being instructed to modify flight procedures, within 30 days, to limit the engines' thrust setting to 96% of N1 above 33,000ft.
"This new operating limit is just applicable to normal operations," states the procedural revision. "During emergency or abnormal operational conditions [this] limitation is not applicable."
Crews must also use the 'CLB2' derated thrust mode as the active setting for high-altitude climb and cruise.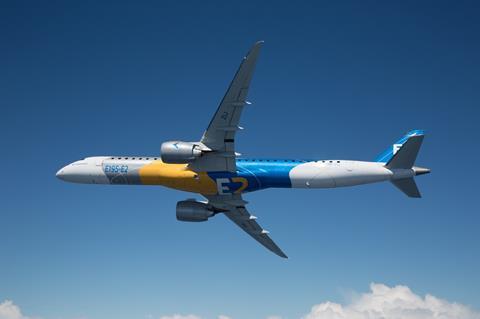 The measures apply to powerplants equipped with full-authority digital engine controls which have specific early software versions.
ANAC says the directive is an interim action and that the inquiry into the engine failures might result in further mandatory instructions.