Inquiries into a Piper PA-46 landing accident in eastern France have underlined how companies facilitating private flights can easily be mistaken for commercial airlines by unwary and uninformed passengers.
French investigation authority BEA has detailed its concern over the way the flight to Courchevel mountain airfield was arranged, after the passenger organising the trip believed the service was associated with Air France-KLM.
The flight – on 8 February 2019 – was actually a private one, arranged through an internet platform called Bluewings which put passengers in contact with aircraft owners and pilots.
Bluewings had been assisted by a start-up studio for new businesses, called BigBlank, which was a subsidiary of Air France-KLM created to incubate innovative travel projects. BigBlank helped create the Bluewings platform.
The Bluewings website indicated, in small print, that it was not an airline and its purpose was to facilitate travel by connecting passengers with pilots and aircraft.
But when the passenger paid for the hire of the aircraft and pilot, through a single invoice, the bank transfer details mentioned BigBlank and Air France-KLM, giving the impression that the airline group was involved.
BEA adds that other services proposed on the website, such as hotel transfer, could "resemble" those of commercial transport, even while remaining in the scope of private operation.
Although Bluewings specified that the hire of the aircraft and pilot were independent of one another, only one invoice – in the name of BigBlank, with the Bluewings logo – was drawn up. BEA says hire of the aircraft and pilot services were both purchased from BigBlank, and the company also chose the pilots, financed training, and leased the aircraft.
"Numerous elements could suggest that this flight was carried out under the auspices of Air France," it states. "However, this flight did not meet all the regulatory requirements of a commercial flight, as BigBlank held neither an [air operator's certificate] nor an operating permit."
The inquiry points out that illegal public transport is defined as air transport carried out in return for payment, by a service provider which does not hold associated authorisations – notably an air operator's certificate.
BEA says the accident occurred when the pilot, with three passengers and an individual acting as a 'safety pilot', attempted to land at Courchevel.
After the pilot throttled back late, the PA-46 floated and touched down halfway along the 537m runway, overrunning and colliding with a snow bank. Weight and balance calculations showed the aircraft was overloaded during take-off and at the limit of its maximum permitted weight for landing. Its approach was unstable and the long touchdown left insufficient runway length to stop. One of the passengers was injured.
Although he had obtained the access authorisation for Courchevel, the 23-year old pilot was inexperienced, having only landed there in a Jodel D140 – never in the PA-46, which BEA describes as having "vastly different" characteristics.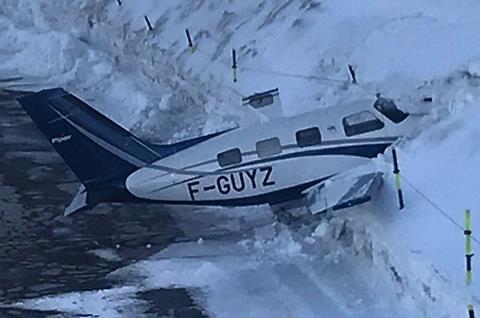 BEA adds that the accompanying 'safety pilot', who was 22, had a commercial pilot's licence. But he was not qualified on the PA-46, did not hold a mountain rating and had no authorisation to use Courchevel airfield.
He had been told that his presence was "just to reassure passengers" and had accepted the unpaid task simply "for the pleasure of flying", says BEA. The passenger who organised the flight had sought reassurance following the high-profile fatal crash involving another PA-46, transporting footballer Emiliano Sala, in the English Channel less than three weeks earlier – an accident which raised concerns over on-demand air taxi safety.
BEA says the 'safety pilot' on the Courchevel flight carried out some checklist reading and radio work. Both pilots had worn the same clothing, and this "reinforced" the passengers' belief that they were flying with an airline.
"This occurrence illustrates that for passengers, marketed flights where aircraft owners, pilots and passengers are put into contact with each other, might look like a commercial air transport flight," says the inquiry.
"However, they may be carried out in a private capacity and not offer the same safety and insurance guarantees as commercial air transport. The companies or web platforms may not be aware of the risks relating to this type of operation.
"Pilots with little experience may accept even more readily to perform these flights as it would allow them to increase their number of flight hours and to start working in the passenger transport sector. However, this type of flight leads to substantial operational pressure for the pilot."
BEA states that companies which propose connecting passengers and pilots are "not obliged" to contact civil aviation authorities beforehand.
"Only random checks permit the verification of the type of operations being carried out," it says, adding that investigators were able to identify – through "straightforward" online searches – proposals for flight operations which "might be on the fringe" with respect to commercial air transport regulations.
"Information obtained from this type of search could be used to carry out targeted checks," adds BEA. "Co-ordinated action between the air transport police and the [civil aviation regulator] could detect passenger transport flights which do not comply with the passenger commercial air transport requirements."