French investigators have found that an Air Canada Boeing 777-300ER's parking-brake had not been applied before one of the individuals in a pushback tractor was injured as he worked to disconnect the towbar.
The individual was a driver instructor and was training a tractor driver at the time of the event, which occurred at Paris Charles de Gaulle on 24 July 2019.
As the aircraft was pushed back from stand A38, the driver made a turn that was too wide and, during the manoeuvring, the tractor reached the maximum turn limit – resulting in a ruptured shear pin.
The instructor told French investigation authority BEA that he signalled to another member of the ground crew, a headset operator, regarding the situation.
"Convinced that the headset operator had understood, [the instructor] thought [the operator] had therefore informed the crew and asked them to apply the aircraft's parking-brake," says BEA.
As the instructor went to inspect and disconnect the towbar, he did not check an indicator light which would have shown the parking-brake status.
While he worked on the disconnection the aircraft began to move forwards, exerting a force on the towbar. One of the towbar wheels rolled over the instructor's foot, trapping him, and the stressed bar suddenly unhooked from the tractor and struck the instructor's leg.
Under the procedures of AGS, the tractor operating company, a towbar pin shear must prompt the ground personnel to ask the aircraft crew to apply the parking-brake and, if required, block the nose-gear. BEA says nose-gear blocks are not mandatory and are only used when a carrier's procedures require them – Air Canada did not.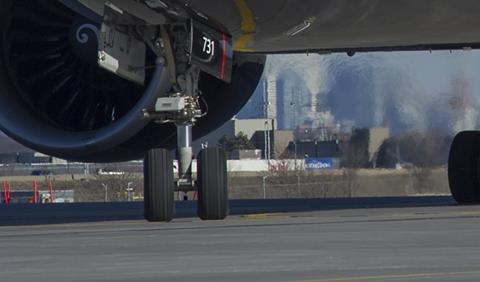 The headset operator, who worked for Air France Industries, told the inquiry he did not see the tractor driver or instructor make a hand signal to indicate the stop and request the parking-brake.
BEA says it could not determine the exact accident sequence, including the time the pin ruptured and whether signals were exchanged between the tractor team and the headset operator.
But it states that the instructor alighted from the tractor and started to remove the towbar without the parking-brake having been applied and with no blocks in position.
It says a misunderstanding may have occurred between the tractor team and headset operator, adding: "As this [headset operator] was unaware of any anomaly, the immediate application of [standard] procedures, including the request to apply the aircraft parking-brake, may have been compromised."