South African investigators have revealed that a passenger on an Airlink BAe Jetstream 41 missed being struck by a broken propeller blade that penetrated the cabin, because they had changed seat during the flight.
As the turboprop landed at Venetia airfield, its right-hand Honeywell TPE331 engine was hit by a kori bustard – one of the continent's largest flying birds, with males weighing up to 18kg – which took off from grass adjacent to runway 08.
The impact, as the Jetstream was rolling out at 105kt, severed one of the five propeller blades.
It penetrated the fuselage ice guard, cutting through stringers, and scythed through the cabin, breaking a left-hand passenger window in the third seat row and leaving fragments and debris scattered in the vicinity.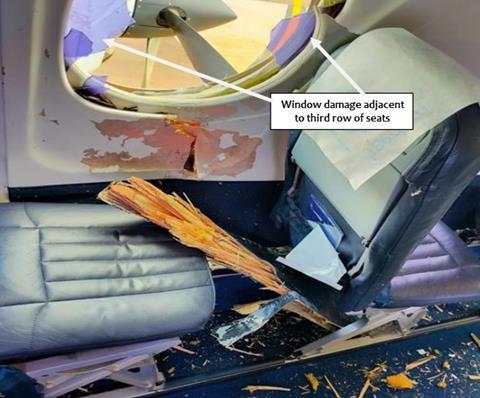 South Africa's Civil Aviation Authority says this seat had originally been allocated to a passenger for weight-and-balance purposes.
But the aircraft was largely empty, with only four passengers, and this individual vacated the seat during the flight and moved to sit in the aft cabin, according to the flight attendant. No-one was occupying the third-row seat when the blade struck.
Such was the impact that the left-hand side of the fuselage was punctured by damaged stringers, and the severe vibration caused by the bird-strike dislodged and fractured some of the engine components, including the gearbox, engine mounts and combustion casing.
None of the seven occupants was injured.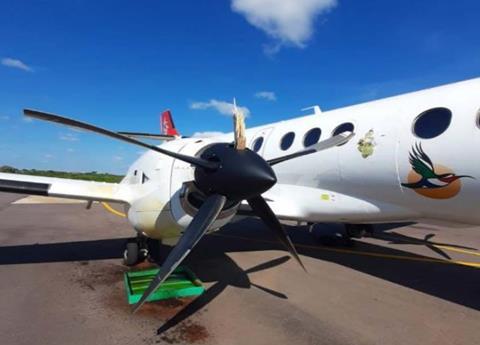 The aircraft (ZS-NRJ) had departed Johannesburg for Venetia, an airfield within a mining area, on 3 January.
Investigators state that, according to the airfield inspector, a runway inspection for foreign object debris and wildlife is carried out before every landing or departure. The inspector performed such a check upon being contacted by the Jetstream crew when the aircraft was descending and 15nm inbound.
"After he had completed inspection, he called the crew and informed them that all was clear," says the inquiry.
Investigators have yet to reach formal conclusions over the accident. The aircraft last underwent maintenance during a C-check on 1 June 2021.
The right-hand propeller, an MT Propeller MTV-27-1, had accumulated 1,922h since new and 615h since its last overhaul.
According to the European Union Aviation Safety Agency, the MTV-27-1 has laminated wooden blades with a composite fibre cover.