Russia's United Engine has conducted volcanic ash ingestion tests of the Aviadvigatel PD-14 powerplant for the Irkut MC-21-310.
State technology firm Rostec says the tests – using ash from the Shiveluch volcano in eastern Kamchatka – are the first to have been carried out for a Russian-built engine.
Testing of the hot section was carried out as part of European Union Aviation Safety Agency validation of the PD-14's type certificate, through the Central Institute of Aviation Motors.
"The test showed that the aircraft's flight through the volcanic ash cloud does not result in undesirable consequences for the powerplant," it adds.
"Performance of the engine was not compromised even in this aggressive environment."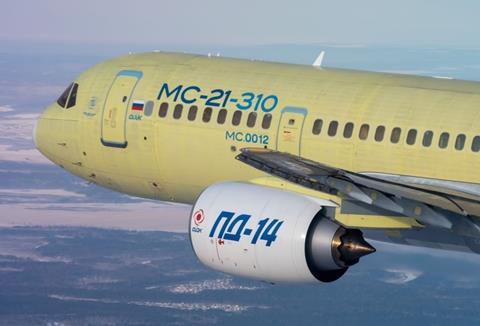 Rostec aviation cluster industrial director Anatoly Serdyukov says the PD-14's thrust, after 1h in the presence of the ash, "practically did not decrease".
After the bench-testing the engine sections were disassembled for inspection. Serdyukov says the absence of findings "confirms the safety of operation" during flight through ash or dust storms.
Aviadvigatel has used the analysis to draw up maintenance recommendations for PD-14-equipped aircraft exposed to such conditions.