Pakistan International Airlines has been blacklisted for a six-month period by European safety regulators, banning it from operating to European Union destinations.
The Pakistani flag-carrier has disclosed that the prohibition enters into force on 1 July.
It states that it is communicating with the European Union Aviation Safety Agency in order to "allay their concerns" and hopes that the suspension will soon be "revoked".
EASA's latest revision of its third-country operator register, dated 24 June, still listed PIA as an approved carrier. The register comprises airlines which have been cleared by EASA to operate services to Europe.
PIA had been granted this approval in May 2016.
But the carrier and the country's regulatory oversight has come under European safety scrutiny, notably since a PIA ATR 42-500 crash in the Havelian region in December of the same year.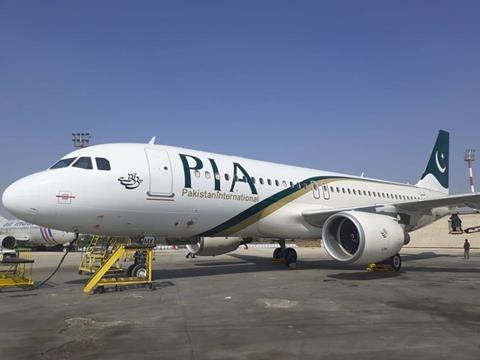 EASA has been concerned over PIA's failure to demonstrate that it has implemented a comprehensive safety-management system.
These concerns have since escalated in the aftermath of the fatal Airbus A320 accident at Karachi on 22 May, particularly following the public admission over pilot licensing irregularities.
In a communication to the airline, EASA says it understands the country's aviation minister has revealed that over 260 of 860 pilot licences issued by Pakistani regulators, for pilots across a number of Pakistani operators, are "fraudulent".
"EASA is concerned about the validity of the Pakistani pilot licences," it says, adding that it doubts that the Pakistani authorities are "currently not capable" of certifying and overseeing its operators and aircraft.
It adds that the preliminary findings into the A320 accident indicate "successive breaches of multiple layers of safety defences".
As a result, EASA has informed PIA that it is suspending the airline's third-country operator approval.
While PIA claimed to EASA that it had grounded all the pilots on lists compiled by Pakistani authorities, EASA remains unconvinced, stating that the claim "does not mitigate" its concerns.
"There are strong indications that a high number of Pakistani pilot licences are invalid," it says. "EASA therefore no longer has confidence that Pakistan…can effectively ensure that operators certified in Pakistan comply at all times with the applicable requirements for crew qualification."