Investigators probing a Pakistan International Airlines ATR 42 engine failure, which preceded the fatal loss of the aircraft, found that engine reliability at the carrier was comparatively poor.
The aircraft came down near Havelian in December 2016 after its left-hand Pratt & Whitney Canada PW127 powerplant suffered a blade fracture and other technical problems.
Pakistan's aircraft accident investigation board says the engine manufacturer provided data to the inquiry comparing the reliability of PIA's PW127s with that of the worldwide ATR fleet.
The analysis looked at rates of in-flight shutdown, inability to modulate power, aborted take-off and other occurrences.
"PIA fleet engine reliability was found to be significantly lower than that of other fleets around the world," says the inquiry. "This remains true even when comparing with operators in similar operating environments."
The manufacturer had been working with the carrier to identify the reasons for this unreliability, relaying findings such as oil filter maintenance practices and corrective repair shop actions to the carrier.
Investigators found that a number of latent technical issues had been present in the ill-fated ATR's left-hand engine before the failure.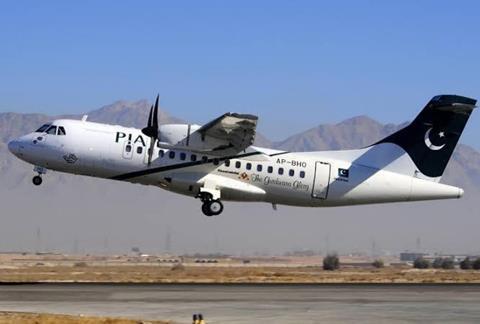 Pratt & Whitney Canada carried out a survey of PIA's engine maintenance facility in April 2017, four months after the accident, detecting a number of anomalies and procedural deviations which were not recorded during Pakistan civil aviation authority audits.
The inquiry says the oversight mechanisms of PIA and the civil aviation authority were found to be "inadequate" at identifying and monitoring performance indicators.
"Furthermore, the mechanism for a pro-active intervention upon such findings was ineffective," it adds.
Investigators found that, three weeks before the crash, the ATR had undergone an engine change, with the installation of a powerplant taken from a sister aircraft in the PIA fleet.
This engine had power turbine blades which had reached time limits requiring them to be changed, but this was not carried out at the time of the swap.
"Missing out of such an activity highlights a lapse on the part of [the airline's maintenance and quality-assurance] as well as a possible inadequacy [or] lack of oversight by [the civil aviation authority," the inquiry states.
Investigators made interim safety recommendations to the authority in January last year, stating that the root cause of maintenance lapses needed to be identified and corrective measures implemented to avoid a recurrence, and that the civil aviation authority needed to evaluate and strengthen its oversight mechanisms.