Finnish investigators have determined that poor communication regarding signals to ground vehicles led a flight attendant to fall from a mobile staircase as it pulled away from a Finnair Airbus A320.
The flight attendant was seriously injured in the 3.5m fall at Helsinki Vantaa airport on 13 January.
Finland's Safety Investigation Authority says that, after the passengers had disembarked, a cabin crew member had given the staircase driver the signal to withdraw from the aircraft's left rear door.
But the staircase vehicle could not move immediately because it was blocked by a bus which, in turn, was waiting for a taxiing aircraft to clear.
Investigators state that the senior cabin crew member realised the bus was not moving, and asked the crew whether its driver had been given the all-clear. Another flight attendant – believing she was responsible for the signal, and not realising it had already been given – opened the left rear door and stepped onto the staircase, in order to see the bus.
As the flight attendant stepped back into the aircraft, the staircase vehicle pulled away, and she overbalanced, falling onto the apron.
"Only [one cabin crew member] was aware that the [all-clear] sign had been given, meaning that the situational awareness of the crew was not at the same level," says the inquiry.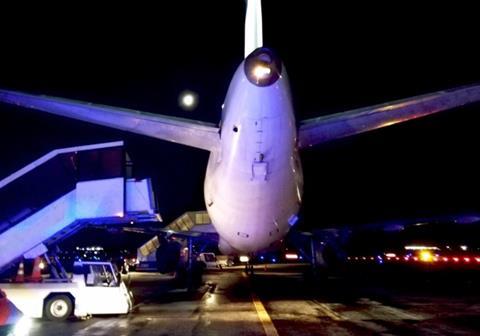 It recommends that Finnair clarifies the responsibilities of cabin crew and ensures flight attendants are instructed in maintaining uniform situational awareness.
Analysis by the inquiry also found that – over 2015-20 – some 50 occurrences involving operation of aircraft doors, staircase vehicles or passenger bridges took place in Finland, but it claims that no significant measures have been taken.