Investigators in Namibia have concluded that poor maintenance of a scissor-lift passenger assistance vehicle, and possibly its overloading, resulted in its collapsing during disembarkation of an Air Namibia aircraft at Windhoek.
The vehicle was offloading people from flight SW708, which had arrived from Cape Town on 13 December last year.
Although the vehicle's maximum carrying capacity is eight people, or 1,000kg, there were 11 on board – eight passengers and two check-in agents, plus the driver – at the time of the accident.
The vehicle was lowering its scissor-lift cabin when the lift mechanism failed, as a result of which it dropped and "slammed back on its lower platform", says Namibia's directorate of aircraft accident and incident investigations in findings published on 30 October.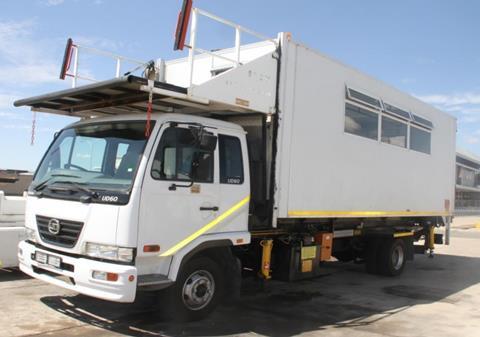 All 11 occupants, a number of them unrestrained, were "tipped towards the back of the cabin", it adds, six of suffered injuries and were taken to hospital.
Investigators found the vehicle had been poorly maintained, with severe wear and "visible corrosion" and "no indication of lubrication" to indicate the working parts of the lifting components were serviced. Scissor beams had evidence of cracking and the inquiry found that torque shaft welds failed.
"In-house servicing and repairs of Air Namibia's [passenger-assistance equipment] indicated that the service and repairs was not satisfactorily done," it adds.
The driver of the vehicle was only partially qualified. Air Namibia supervisors also gave their check-in agents authorisation to operate the equipment without any formal training.
Investigators believe the overloading of the vehicle beyond its maximum capacity "might have contributed" to the event.