US investigators have determined that improper flare technique led to a porpoised and bounced landing at Portsmouth, New Hampshire, badly damaging an Atlas Air Boeing 767-300ER.
The aircraft had been arriving on a charter service from Frankfurt's secondary Hahn airport, transporting 240 passengers with a crew of 10, on 27 July 2018.
Its first officer, the flying pilot, was performing his first operational evaluation under a line-check captain. He had logged 16h on type out of 2,465h total.
While the approach to runway 34 at the joint civil-military Pease airport was conducted before sunrise, visual weather conditions prevailed.
But as the first officer initiated the landing flare, the 767 became "slightly high" on the approach, says the US National Transportation Safety Board, with the precision-approach path indicator showing three white lamps and one red, rather than two of each.
It states that, according to the carrier, the aircraft touched down with "limited flare" and its General Electric CF6 engines at nearly 50% of N1 – which prevented the speedbrakes from deploying.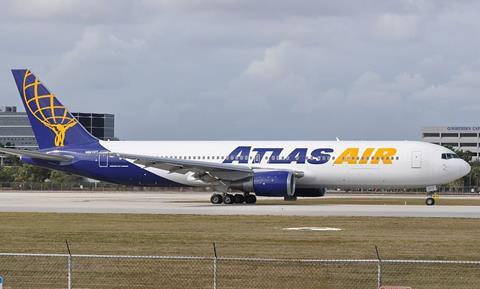 Information from the twinjet's quick-access flight recorder showed the aircraft "porpoised" five times while travelling along the runway.
Porpoising is an oscillation phenomenon triggered when pilots repeatedly overcorrect for the aircraft's response to a previous input.
The inquiry says the aircraft bounced, with maximum impacts reaching about 2g, and there was a "lack" of appropriate bounced-landing recovery procedure.
As a result of the event the aircraft's forward upper fuselage crown was "visibly wrinkled" with dents and creases in the skin. It also sustained fractures and buckling to several frames and stringers as well as deformation to the nose-wheel bay.
None of the passengers or crew members was injured but the inquiry says the jet was "substantially" damaged.
Cirium fleets data lists the aircraft (N641GT) as having been delivered originally to Korean operator Asiana in 1992, and serving with other carriers before being acquired by Atlas Air in 2011.