French investigators are probing an incident in which an Airbus A320 descended below the glidepath at Paris Charles de Gaulle during two separate approaches, triggering minimum safe altitude warnings.
The aircraft was operated by the Maltese wet-lease specialist Airhub and had been inbound to Paris from Stockholm Arlanda on 23 May.
French investigation authority BEA says it was carrying out an RNP, or required navigation performance, approach to runway 27R.
BEA states that an "error" in the QNH figure – the setting for sea-level air pressure – meant the approach was too low. It says the QNH setting was 1011mb instead of 1001mb.
The inquiry has not elaborated on the reason for the incorrect figure.
But it says that, during the initial approach, a minimum safe altitude alarm was triggered and the crew aborted the approach "at low height" before reaching the runway.
It says the pilots had not acquired external visual references.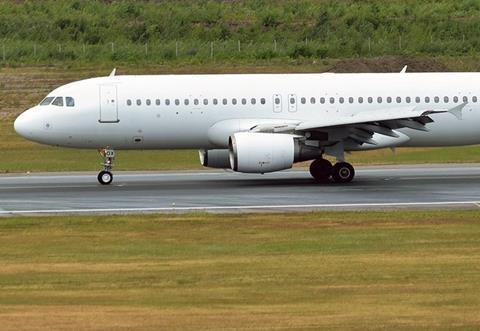 BEA states that the A320 then conducted a second approach, also below the glidepath, generating a similar warning.
"After acquiring visual contact with the runway, the crew corrected the flightpath before landing without further incident," it adds.
Originally delivered to Iberia in 1999, the CFM International CFM56-powered aircraft (9H-EMU) was operated by carriers including GetJet before being transferred to Airhub in 2020.