Russian president Vladimir Putin has disclosed that investigators discovered fragments of hand grenades during examination of the victims of an Embraer Legacy 600 crash near Moscow.
Putin was speaking at a meeting of the Valdai Discussion Club, a high-level conference forum, on 5 October.
The Legacy 600 had been carrying 10 occupants, among them representatives of the Wagner Group military organisation, when it came down on 23 August. None of those on board survived, including Wagner leader Evgeny Prigozhin, triggering suspicions that sabotage was behind the crash.
Putin was answering a Valdai attendee's query on dealing with private military companies, and stated that the federal Investigative Committee had informed him that "fragments of hand grenades were found in the bodies" of those on board the aircraft.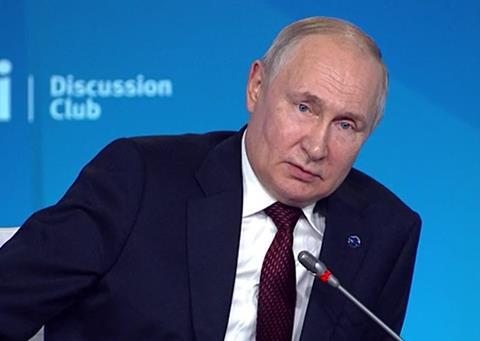 "There was no external [influence] on the aircraft – this is an established fact," said Putin, but added that the investigation was not yet complete.
He said that "no examination" was performed in relation to determining the presence of alcohol or drugs in the victims' blood
"In my opinion, it would be necessary to conduct such an examination, but it was not carried out," he stated.
Putin also pointed out that describing Wagner Group as a private military company was misleading.
"There are no private military companies in Russia, because there is no law on private military companies," he insisted. "In our country they do not exist and have never existed."
He said he "did not object" when the ministry of defence "invited" part of the Wagner Group to participate in the Ukrainian conflict, because those involved acted voluntarily.
But Putin added that the situation was not ideal and the interests of Wagner's management did not necessarily coincide with those of its personnel.