Russian investigators have determined that a Red Wings Irkut Superjet 100 landed long, in poor weather conditions, before the aircraft was involved in an overrun at Belgorod.
The aircraft (RA-89122) overran the end of runway 29 after arriving from Moscow Domodedovo in reduced visibility, owing to fog and rain, on 10 January.
None of the 48 passengers and six crew members was injured but the airport was closed for over 5h while the jet was towed from rough ground, where it had stopped, to a parking position.
Federal air transport regulator Rosaviatsia says the aircraft performed an "unacceptably long overshoot" of the recommended touchdown zone.
It says the crew did not comply with standard operating procedures for an ILS approach, and that the captain did not communicate the decision whether to land or conduct a go-around at the decision height.
But it also indicates that "erroneous activation" of go-around mode at a height of 50ft resulted in destabilisation of the approach, which was not aborted.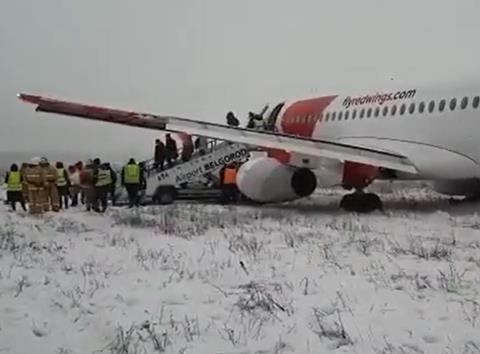 Rosaviatsia subsequently advised Red Wings to consider recommending that crews turn off the autothrottle at the same time as the autopilot when switching to manual control on approach.
Its investigation also found that crews needed to pay greater attention to landing conditions when opting to use automatic braking.