Pratt & Whitney is aiming to introduce redesigned bleed-valve ducts for Airbus A220 engines by the fourth quarter of this year, to eliminate a resonance phenomenon linked to a series of powerplant failures.
Four instances of PW1500G low-pressure compressor stage-one rotor separation, affecting A220-300s operated by Swiss and Air Baltic, occurred in the seven months between July 2019 and February 2020.
Engine parameters at the time of each failure, and the resulting damage, was "consistent" for all the events, says the US National Transportation Safety Board, which has completed an investigation into the first incident, involving a Swiss A220 (HB-JCM).
The aircraft's left-hand engine failed as it climbed through 32,000ft over Perrigny-sur-Armancon in France while en route to London Heathrow. Examination of the twinjet after it diverted to Paris Charles de Gaulle revealed a hole in the low-pressure compressor casing and the stage-one rotor was missing.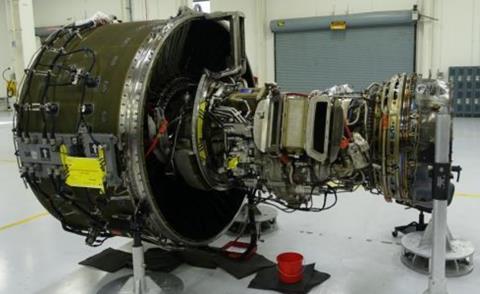 Investigators conducted multiple tests including computational fluid dynamic and acoustics analysis to identify the cause of the failure.
These tests identified a mechanically-coupled mode excitation between the stage-one and stage-three rotors of the low-pressure compressor, driven by an "acoustic coincidence" with the 2.5 bleed-valve duct cavity.
At high engine speeds in specific operating conditions, says the inquiry, the low-pressure compressor rotor blade tips could cause turbulent airflow that generated an acoustic tone as it passed over this cavity, which is situated immediately behind the compressor.
This tone excited a stage-three rotor blade bending mode which was then mechanically transferred, through the low-pressure compressor module, to the stage-one rotor – generating a bending mode in that rotor which exceeded the stress limits on its blades.
The stresses created cracks in the blade root and rotor which worsened until the rotor failed from overload.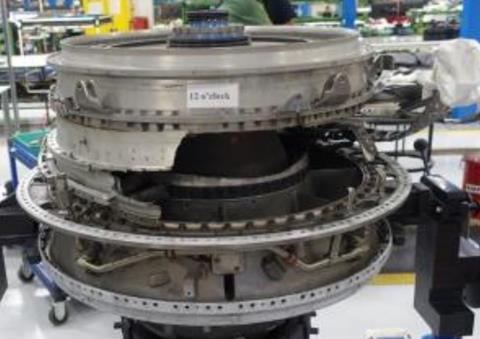 Three of the A220 engine failures involved the PW1524 variant of the powerplant while the other occurred to a PW1521.
Investigators determined that a software revision to the electronic engine control, which altered the compressor's variable inlet guide vane schedule, increased the likelihood of blade-flutter onset.
Operating restrictions – including a thrust limitation at high altitude – were imposed on A220s in the aftermath of the engine failures to reduce the chances of the phenomenon being initiated, and amended engine-control software was also introduced to restore the original vane schedule.
But Pratt & Whitney is also modifying the geometry of the 2.5 bleed-valve duct, says the inquiry, in order to increase frequency margins and eradicate the problematic resonant response. It adds that the redesigned hardware is scheduled to be available by the fourth quarter.