None of the three occupants of an Aerolineas Andinas Aliansa Douglas DC-3 has survived after the aircraft came down shortly after departing Villavicencio.
The airline's operational safety director, Diego Mauricio Arias Grajales, has confirmed the loss of two pilots and a technician in the 8 July crash.
Civil defence organisation Defensa Civil Colombiana says search personnel have located the aircraft near the village of Santa Lucia in the vicinity of Restrepo, a town some 5nm north-east of Villavicencio's La Vanguardia airport.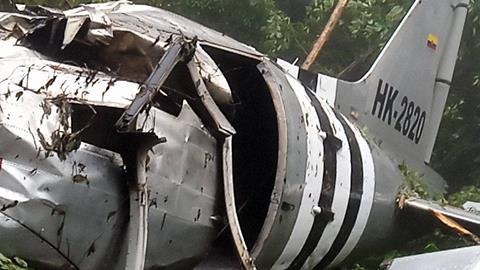 Video footage had emerged showing showing aft fuselage debris in an area of trees, with characteristic black-and-white stripes matching those on the aircraft, and a vertical fin bearing its registration, HK-2820.
The wreckage video also indicated extensive forward fuselage damage.
Aliansa had acknowledged that the images corresponded with the missing aircraft but had been awaiting positive identification from official search parties.
Civil aeronautical authority Aerocivil says difficult weather conditions in the area obstructed search personnel attempting to reach the site.
Aliansa says the DC-3 took off from La Vanguardia airport early on 8 July for a training flight, with radar and radio contact lost a few minutes after departure.
Investigators have yet to reach any conclusions on the circumstances of the accident.