Investigators have disclosed that a TAP Air Portugal Airbus A320 involved in a thrust-reverser incident just before touchdown in Denmark started veering to the left as the crew attempted to abort the landing.
There is no indication, however, that the jet contacted the ground during the event at Copenhagen on 8 April.
The incident occurred during approach to runway 30 as the jet arrived from Lisbon.
Danish investigation authority HCL says the crew had initiated a go-around – the reason has not been confirmed – but, after selecting take-off power, the aircraft diverged to the left and failed to accelerate or climb in the manner the pilots expected.
"[This] temporarily made it difficult for the flight crew to maintain control of the aircraft," it states.
HCL says the crew noticed an indication that the left-hand engine's thrust-reverser doors were unlocked. This engine – a CFM International CFM56 – was operating at idle thrust.
"The flight crew regained control of the aircraft and established a single-engine climb toward a safe altitude," says HCL.
It adds that the crew declared an emergency during the climb and carried out the necessary checklists.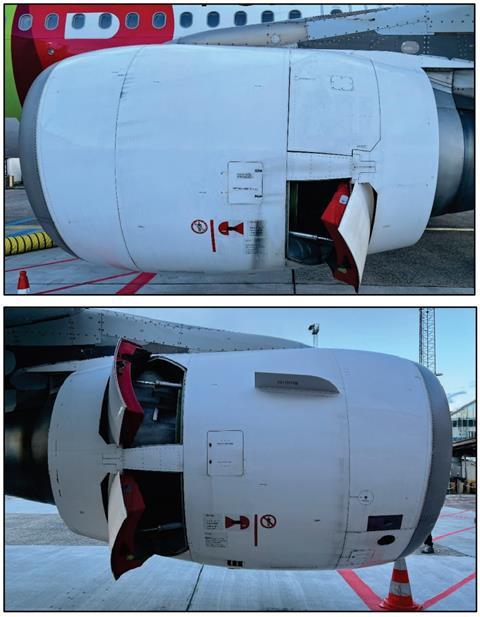 Air traffic controllers vectored the A320 (CS-TNV) for a priority landing on runway 22L, where the jet subsequently touched down safely. None of the 109 occupants was injured.
Visual meteorological conditions prevailed at the time.
After the aircraft landed, an inspection found that three of the four thrust-reverser doors were fully deployed.
But no external damage was detected on the jet and an examination of runway 30 showed no evidence of wing-tip or tail-strike, or other ground contact.
French and Portuguese investigation authorities, as well as the European Union Aviation Safety Agency, have appointed technical advisers to the inquiry.