Europe's aviation safety regulator has put forward proposals to revise certification requirements for helicopter hoist design, arguing that design improvements would potentially mitigate a number of accidents and reduce fatalities.
Analysis by the European Union Aviation Safety Agency found that at least 39 serious hoist-related accidents – resulting in 62 fatalities – occurred over 1994-2018, and that the fatality rate has averaged three per year for the last five years.
Entanglement is the most common cause, and EASA stresses that training is not necessarily sufficient to prevent such occurrences, because they happen to highly-experienced operators with significant training resources such as the military, coast guard, and offshore specialists.
Cable rupture and cable rebound have also been highlighted as primary causes.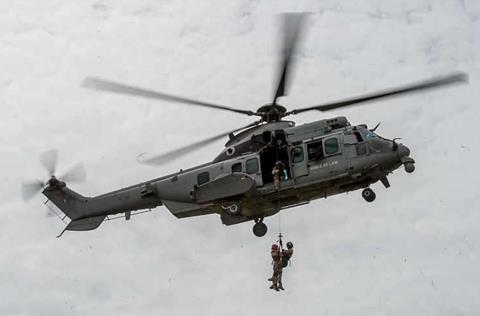 EASA says rotorcraft certification standards incorporated new external load requirements from 1999, but states: "Most hoist designs are derived from models that pre-date the change in [these external load specifications] and their compliance is potentially questionable."
Its review of accidents and incidents indicate that they have been occurring with a probability "at least an order of magnitude higher" than the safety level of one in a billion flight-hours required by the certification standard.
"The approach to the certification of hoists should now be revisited, as some failure modes are not consistently taken into consideration, and this is reflected in in-service experience," says EASA.
Given an expected increase in hoist operations, it adds, the proposal intends to improve overall hoist design and eliminate design features known to have contributed to in-service occurrences.
"Existing hoist designs have not fundamentally changed for the last 40 years," says EASA.
It acknowledges that manufacturers would have to bear the cost of developing and certifying new designs, but says other suppliers would be able to enter the market through the establishment of revised standards. EASA is inviting comments on the proposal until 13 October.