Russian investigators are probing an incident in which a Rossiya Airbus A319 was found to have a cable attached to its main landing-gear after arriving at St Petersburg.
The aircraft (VP-BWJ) had been operating the FV6314 service from Krasnodar on 3 November, according to an incident bulletin from the federal air transport regulator Rosaviatsia.
It had departed Krasnodar's runway 05R, apparently without problems, but a post-flight inspection of the twinjet at St Petersburg found part of an earthing cable, some 5m or 6m in length in the area of the brake hydraulics on the left-hand main gear.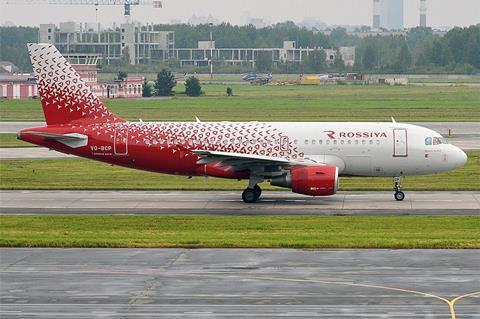 Investigators have yet to disclose details regarding the circumstances of the incident.
But when an aircraft is being refuelled, the speed of the fuel flow can generate a build-up in static charge.
To prevent a difference in potential – and a possible spark – emerging during refuelling, the aircraft is bonded to the fuelling vehicle, through a connecting cable typically attached to the landing-gear or another suitable point on the airframe.
Rosaviatsia says the aircraft sustained damage to a radio-altimeter antenna, as well as "numerous" abrasions and impacts to the underside skin of the fuselage.
Inspection of St Petersburg's runway 28L, on which the aircraft had landed, as well as its taxi route showed no foreign object debris.
Rossiya has withdrawn the aircraft from service pending repair. None of the 123 passengers or five crew members was injured.
Cirium fleets data shows the CFM International CFM56-powered twinjet was originally delivered to Aeroflot in early 2004.