Russian investigators have retrieved the flight recorders from the Embraer Legacy 600 which crashed in the Tver region on 23 August.
The federal Investigative Committee also says 10 casualties were located at the accident site.
It states that molecular genetic examination is taking place to establish their identities.
Several individuals connected to the private military Wagner Group, including leader Yevgeny Prigozhin, were among seven passengers and three crew members listed as being on board the business jet.
It had been flying from Moscow to St Petersburg when it came down.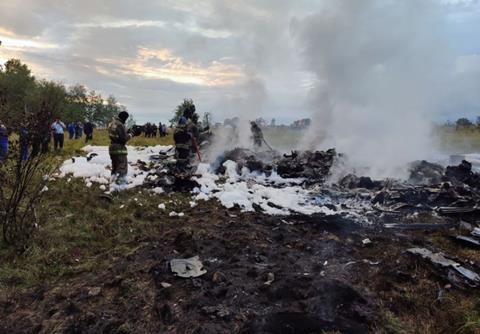 Video footage from the area, circulating on social media, indicates the aircraft descended almost vertically before impacting the ground.
Much of the Embraer wreckage appears localised in a field, but some video footage also suggests a number of structures – including the vertical fin, horizontal stabiliser and the left wing – separated during the event and landed elsewhere.
The Investigative Committee is an organisation which probes events in which a criminal link is suspected.
According to the organisation, the flight recorders have been recovered and a detailed examination of the crash site is continuing.
"Items and documentation important to establishing all the circumstances of the crash are also being obtained," it says, adding that it will look into "all possible" explanations for the occurrence.
Russia's Interstate Aviation Committee, the agency normally tasked with investigating civil aviation accidents, has not stated publicly whether it will have a role in the inquiry.