Russia's transport ministry is preparing legislation enabling tougher measures against disruptive passengers, intended to permit crew members and security personnel with the right to use special restraints.
Under the proposal the captain of the aircraft would be given the responsibility of deciding whether to use such measures in the event of a direct threat to the flight or safety of those on board.
"The largest Russian airlines regularly record cases of attacks and physical assault by passengers on flight attendants, as well as other passengers," says the ministry.
"There are frequent instances of verbal threats, swearing or insults, abusive behaviour, interference, and obstruction of the crew's performance of duty."
The legislation, intended to take effect from September, proposes to equip aircraft with plastic handcuffs and nylon belts to restrain passengers who engage in such behaviour or refuse to comply with instructions.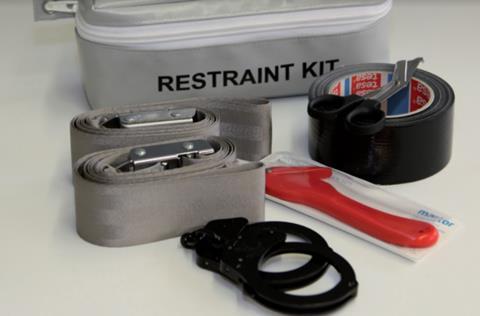 Cockpit crew members would not be allowed to leave the flightdeck to assist. Passengers restrained would be kept under constant supervision, says the proposal, and not be placed on seats next to the aisle or exits. Crew members must also take measures to prevent unauthorised access to restraints.
Any necessary medical assistance will be given once the aircraft arrives at its destination, and passengers would be instructed to stay in their seats while security personnel remove the violator.
All the proposals contained in the draft resolution will undergo discussion with representatives of the air transport industry, relevant organisations, and the public, before adoption.