Russian investigators have disclosed that a serious Nordwind Boeing 737-800 runway excursion in August was one of four such incidents in the space of two months involving the country's carriers.
Federal air transport regulator Rosaviatsia's newly-appointed chief, Dmitry Yadrov, has highlighted the importance of stabilised approach criteria, weather considerations – including wind direction – and procedures for assessing runway condition and braking.
The Nordwind aircraft had been holding for 46min while waiting to land at Novokuznetsk airport at night on 22 August.
Visibility was poor and twice the aircraft had descended only for a deterioration in weather conditions to force it to return to the hold.
Rosaviatsia says the crew disengaged the autopilot just below 2,700ft but adds that – given the conditions and the pilots' "increased psycho-emotional stress" – the decision to reduce the automation was "unfounded".
Although the approach to the decision height was stable, the aircraft subsequently started to bank left and this reached 11° at touchdown.
"[This] may indicate that the [captain] lost stable visual contact with the runway lights," says Rosaviatsia.
Just over 150m into the landing roll, the aircraft departed the left side of the runway. The crew increased thrust and was subsequently able to return the aircraft to the runway after about 700m.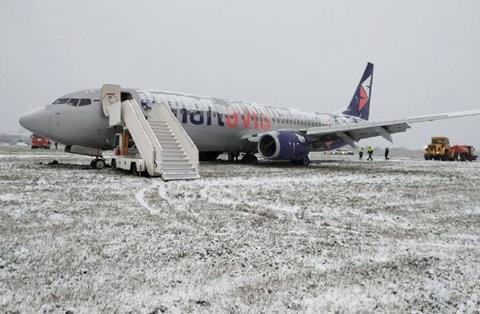 The most recent of the four incidents occurred on 24 October and resulted in a Smartavia 737-800's overrunning Perm's runway 21 by 30m, with damage to runway lights and the jet's tyres.
Rosaviatsia states that more than half the runway was "covered with slush" and that, after touchdown, reverse-thrust was initially activated before being disengaged. But the crew found auto-braking was "insufficient" and re-activated reverse-thrust, it says.
The two 737 events bookended an Aeroflot Boeing 777-300ER's experiencing a deviation to the right of runway 27 while landing in heavy rain at Phuket, Thailand, on 16 September.
Rosaviatsia says there was a "prolonged alignment" with the runway and the jet touched down 944m (3,100ft) beyond the threshold, about 12.5m to the right of the centreline, before drifting to a distance of 21.5m and striking runway edge lights.
The fourth incident took place five days before the Smartavia overrun at Perm, and involved a Utair Antonov An-24RV which was attempting to land on runway 01 at Utrenny in darkness and fog.
Two approaches were carried out and, during the second, the aircraft rolled off the runway and came to a halt 25 beyond the end, having turned 90°k to the right.
Rosaviatsia points out that the Utrenny and Novokuznetsk excursions occurred during landings in limited visibility, and linked to the crew's "losing reliable visual contact" with runway lights.
"These serious incidents could have been avoided if the decision to go around was made in a timely manner," it adds.