Russia's Interstate Aviation Committee, the country's civil aircraft accident investigation authority, is not currently probing the Embraer Legacy 600 crash northwest of Moscow.
The aircraft – bound for St Petersburg – came down in the Tver region on 23 August, with no survivors among the 10 occupants.
While the Interstate Aviation Committee would normally lead inquiries into the loss of a civil aircraft on Russian territory, it says it "at present" it is "not conducting an investigation" into the occurrence involving the Legacy.
It adds that it is not offering comment on the circumstances of the event.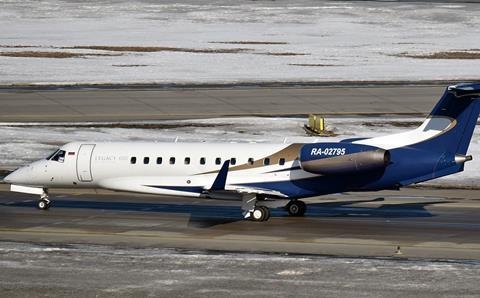 While the committee has previously participated in inquiries in which a criminal cause has been suspected – such as the simultaneous bombing of two Russian airliners in August 2004 – the nature of the events have typically resulted in security authorities taking charge.
Conclusions from a state commission investigating the 2004 bombings, which brought down a Sibir Tupolev Tu-154 and a Volga-AviaExpress Tu-134, were eventually disclosed by the ministry of transport.
Russia's federal Investigative Committee has opened a criminal inquiry into the Legacy crash.
It says it has identified those on board and confirmed that they include members of the private military organisation Wagner Group, including its leader Yevgeny Prigozhin. The Investigative Committee has also previously stated that the flight recorders of the Legacy have been recovered.