Ryanair has introduced a revised ultrasonic inspection method to detect internal wheel hub cracks, after a Boeing 737-800 wheel-fire incident at Manchester last year.
The fire in the left-hand main landing-gear broke out as the twinjet, having landed on runway 23R, taxied to its stand on 17 March 2022.
UK Air Accidents Investigation Branch analysis found that the outboard wheel's inner hub had fractured, owing to a fatigue crack originating at a corrosion pit.
The subsequent misalignment of the wheel damaged the brake piston and caused a leak of hydraulic fluid.
Heat generated by the misaligned wheel, as the aircraft was taxiing, was sufficient to ignite the leaking fluid.
After vacating the runway the crew had found the aircraft needed more thrust – around 40% of the N1 level – than normally required to maintain its taxi speed, and had suspected a flat tyre.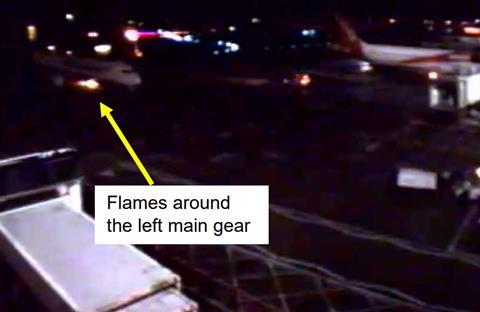 But as the jet approached the stand, the crew overheard a radio transmission requesting firefighters to attend a brakes fire and, realising their aircraft was involved, completed the parking procedure and shut down the engines.
"As the fire was quickly extinguished, the flight crew considered that an emergency evacuation was unnecessary and, therefore, the passengers disembarked normally," says the inquiry.
It states that the wheel manufacturer has developed an ultrasonic inspection technique to assess the condition of the internal bore of the wheel hub, and that Ryanair – which experienced a similar event in Spain, following the UK occurrence – has introduced this inspection on its 737 fleet.
Spanish investigation authority CIAIAC is probing a 31 March 2022 incident in which a Ryanair 737-800 landed on runway 32R at Madrid Barajas, and came to a halt on the taxiway after damage to the wheel and brakes on the left-hand main landing-gear.