Russian investigators have disclosed that the Airbus A321neo involved in a serious in-flight upset after taking off from Magadan had been de-iced only on its wing surfaces and stabiliser.
Federal air transport regulator Rosaviatsia states that the S7 Airlines aircraft was parked for two-and-a-half hours in heavy snowfall, leading to a "large amount" of snow accumulating on the upper fuselage.
After the windshield heating was turned on, it says, the snow melted resulting in water run-off from the glass.
This ran down the forward fuselage and, during taxiing in freezing conditions, reformed as ice ridges in front of the pitot-static sensors.
Rosaviatsia says the distortion of the smooth airflow into the sensors resulted in unreliable readings from three air-data systems after the jet become airborne, causing discrepancies in the airspeed information.
The aircraft's systems degraded, disengaging the autopilot and autothrust, and presenting flight-control problems for the crew.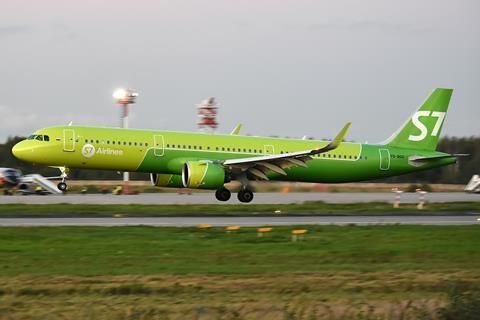 Rosaviatsia says the de-icing of the wing surface and the stabiliser – carried out in two stages, with Type I and Type IV de-icing fluid – was done "in accordance with the decision of the aircraft crew" during preparations for departure to Novosibirsk on 2 December.
Take-off with a "thick layer" of snow on the fuselage surfaces and the cowls of the engines, in conditions of turbulence and icing, resulted in a "threat to flight safety", it adds.
Rosaviatsia says it has obtained enough preliminary information from air and ground recordings, examination of the de-icing fluid, and video surveillance at Magadan to begin taking preventative measures.
It is recommending that ground-handling organisations modify their procedures to prevent the release of any aircraft for flight on which snow is present.
Pilots of the aircraft managed to recover sufficient control to divert to Irkutsk. None of the 202 passengers and seven crew members was injured.