Investigators have determined that a Longtail Aviation Boeing 747-400 converted freighter that shed turbine parts over a town after departing Maastricht had not been modified with cooling features which might have prevented the incident.
The aircraft's left outboard Pratt & Whitney PW4000 engine suffered a contained failure but several pieces of engine debris exited the powerplant's exhaust as the jet climbed away from runway 21 on 20 February 2021.
Two people were injured by the falling parts, which also damaged houses and cars. The crew shut down the engine and diverted to Liege, landing safely.
The Dutch Safety Board found that the high-pressure turbine's second-stage blade outer air seal – as well as the turbine itself – had deteriorated.
This exposed the outer transition ducts behind the turbine to elevated gas temperatures which "existed for an extended period of time", the inquiry states, contributing to the ducts' slow deformation and distortion.
As a result, duct panel sections broke away from the case and damaged a number of turbine blades, with fragments being ejected from the engine.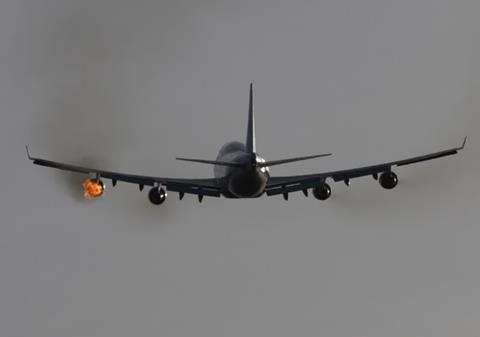 Investigators state that several service bulletins had been issued by Pratt & Whitney, over the course of nearly three decades, to prevent failure of the outer transition ducts and turbine section and ensure safe functioning of the powerplant.
These improvements included additional cooling features for the high-pressure turbine and installation of new transition duct panels.
But while the engine on the 747 had been fitted with the new panels, the additional cooling features had not been incorporated. Although recommended, their installation was not mandatory.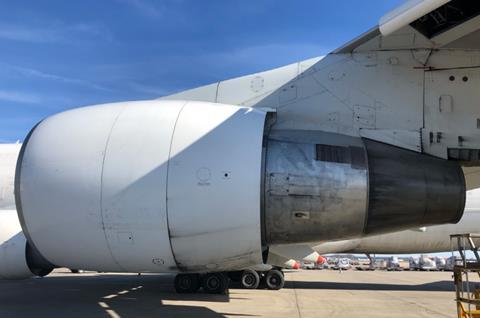 The inquiry says the carrier had only been using the jet (VQ-BWT) for three months, and was "not responsible" for the decision not to implement the service bulletin – which was issued in 1993 – during shop visits by the aircraft in 1999 and 2009.
"Despite this, the operator was not able to present the documented reasoning regarding the non-incorporation of this service bulletin," it says.
"Having an adequate record keeping of maintenance documentation enables the operator and its maintenance organisation to make sound risk management decisions about the continuing airworthiness of their aircraft.
"This is crucial for the safe operation throughout the operating life of, in this case, the engine."