Investigators have disclosed that a Cargolux Boeing 747-400ERF experienced shifting winds before suffering a double engine pod-strike during an aborted landing attempt at Luxembourg.
The aircraft – arriving from Dubai on 15 April – rolled to the left shortly after touchdown, and both its inboard and outboard left-hand engines struck the surface of runway 06.
According to Luxembourg's administration for technical investigation, the crew was "not aware" of the pod-strikes and executed a go-around.
Damage to the General Electric CF6 engine nacelles was discovered only after the 747 successfully landed on the same runway about 14min later and taxied to the parking apron.
The investigating authority found the aircraft was 68ft above ground on its first approach, and 5s from landing, when a shift in wind led to a 7kt decline in airspeed over the course of the next 2s.
This was then followed by a 19kt airspeed increase before touchdown.
"These airspeed fluctuations can be traced to variable environmental conditions and could not be related to the control inputs of the pilot flying," says the inquiry.
Meteorological data from the airport, used by the crew, indicated variable winds, ranging from the northwest to the northeast, as well as gusts up to 25kt.
When landing clearance was given, the tower informed the crew of winds from 350° at 17kt – the equivalent of a 16kt left crosswind.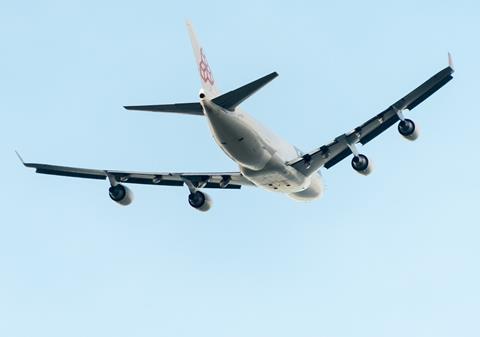 "Although the crew was aware of the potentially variable wind conditions, landing in such conditions may be challenging because rapid changes are likely to be encountered in a highly dynamic phase of the flight," the inquiry says.
It adds that the 747's high approach speed and descent rate, a consequence of the aircraft's weight, "further exacerbated" this situation.
"Reduced thrust on landing also limits the reactivity to corrective inputs due to the spool-up time of the engines," it says. "All this combined left the crew with only limited margin to react to changing environmental conditions."
Investigators have concluded that there were not systemic safety issues, the incident was unlikely to have evolved into an accident, and any additional safety barriers would be "difficult" to implement given the circumstances.
Cargolux introduced the aircraft (LX-ECV) in 2013 after the jet, which was manufactured in 2009, was not delivered to its original customer, Kuwaiti start-up freight carrier LoadAir. The aircraft was one of the last original 747s to be delivered, before Boeing turned to the 747-8 variant. Cargolux was also a 747-8F launch customer.