Russian investigators are probing an excursion incident involving a Smartavia Boeing 737-800 as it landed at Perm in wintry conditions.
The aircraft had arrived from St Petersburg on 24 October at 06:31, according to the Russian federal air transport regulator Rosaviatsia. It conducted its approach to runway 21.
Rosaviatsia states that the aircraft "skidded off" the runway.
The runway, it adds, had patches of "slush and snow" and its coefficient of friction was 0.35.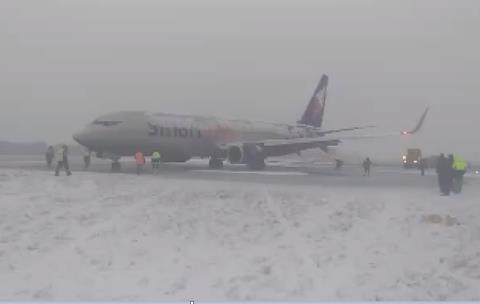 None of the 172 passengers was injured.
Meteorological data from Perm airport at the time indicates winds from the north-east, suggesting a tailwind component for runway 21. The data also shows snowy conditions.
Rosaviatsia states that the occupants were evacuated from 08:50 – some 2h 20min after the incident – after "receiving permission" from the airline.
"Disembarkation of people from the aircraft took place without the use of emergency slides," it says.
It adds that the aircraft has "no visible damage". The jet has provisionally been identified as RA-73654, originally delivered to India's Jet Airways in 2009.
Perm airport re-opened 4h after the event. Seven aircraft departures were delayed while one inbound flight from Surgut was diverted to Ekaterinburg.