Operators of certain Airbus A350s have been instructed urgently to implement a number of operational and dispatch restrictions over a software snag which could lead to loss of elevator control.
The issue centres on the introduction of a flight-control software standard, known as X13, on production aircraft and which is available for retrofit on in-service jets.
According to the European Union Aviation Safety Agency, an occurrence has emerged during which the primary flight-control computers indicated that both elevator actuators were faulty.
"Subsequent investigations identified incorrect instructions had been implemented with the introduction of the [software] standard," it states.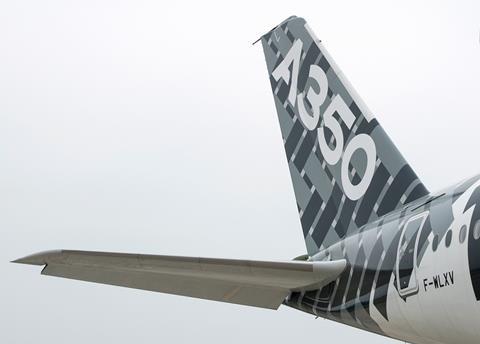 Loss of elevator control would be a serious condition, and Airbus has published a temporary revision to the A350 flight manual as well as the master minimum equipment list.
These revisions cover aircraft with the X13 flight-guidance software standard installed. Both A350-900s and -1000s are potentially affected.
EASA has issued an emergency directive ordering implementation of the manual and minimum equipment list revisions within seven days. It adds that the directive is an interim measure, and further action might be necessary.