US investigators are aiming to conduct a sonar scan of underwater wreckage and debris following the Transair Boeing 737-200 freighter crash off Hawaii on 2 July.
The inquiry will carry out the side-scan sonar survey of the debris field to assess the location of the aircraft and its condition, as well as the depth of water in which it sank.
"That information will be used to determine how and when the [flight] recorders could be recovered and then how and if the aircraft will be salvaged," says the National Transportation Safety Board.
It states that the exact position of the 737 on the Pacific floor needs to be determined before the cockpit-voice and flight-data recorders can be recovered.
The aircraft, operated by Rhoades Aviation as Transair flight T4810, ditched in Mamala Bay a few minutes after departing Honolulu for an inter-island service to Kahului.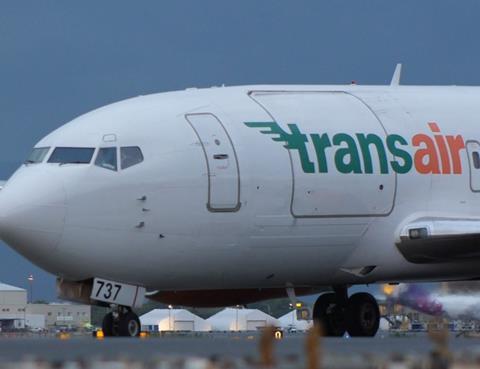 Both pilots were injured but survived the accident. The aircraft was badly damaged and sank, although a "small amount" of floating debris has been retrieved and transferred to a Coast Guard air station at Barbers Point, west of Honolulu, for examination.
Several investigators have been dispatched to the scene and meetings have already been held with Boeing, the US FAA, engine manufacturer Pratt & Whitney, the airline, and air traffic control representatives.
Investigators are scheduling interviews with the pilots as well as air traffic controllers and the carrier's maintenance personnel.
Air-ground communications indicate that the aircraft was suffering engine failure, and unable to hold altitude as the crew attempted to return to Honolulu, but the precise circumstances of the accident have yet to be determined.