Bombardier has been discussing with Canadian regulators proposed special training to mitigate the risk of runway wing-strike on Global Express business jets, after a number of incidents.
UK investigators have referred to the proposal following an occurrence at London Luton on 7 April last year which damaged a Luxembourg-registered Global 6000.
Two pilots – a training captain and a first officer who was flying the type for the first time – were the only occupants of the jet.
The Air Accidents Investigation Branch inquiry found that the aircraft (LX-NST) was conducting an ILS approach to runway 25 in a "strong and gusty" crosswind.
At about 50ft the captain sensed the aircraft was becoming unstable and starting to drift to the left, and he took control from the first officer, commencing a go-around and applying full thrust.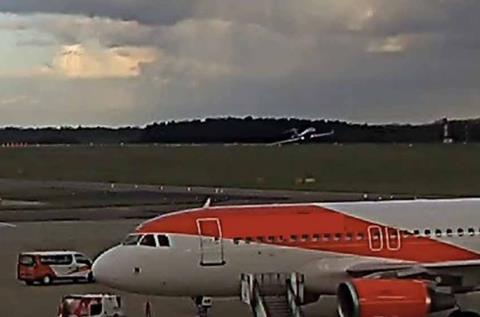 Before the thrust took effect, however, the aircraft rolled right, reaching 10.5° bank, with a pitch attitude of 9.5°. The right-hand main landing-gear momentarily touched down.
"During this, the right wingtip contacted the runway," says the inquiry.
It states that the captain applied full-left controls, the jet rolled "rapidly" left and started to climb away.
The aircraft subsequently landed safely after a second approach, but had sustained damage to its right wing-tip, flap fairing, aileron and leading-edge slat.
Although airport wind data did not indicate large changes in speed or direction, says the inquiry, the jet might have encountered low-level turbulence.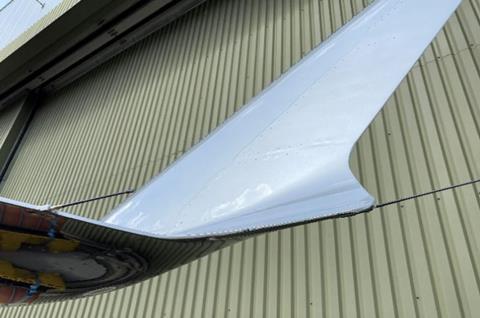 Analysis shows the aircraft should ideally reach 7-8° of pitch during flare, and that increasing pitch reduces the wing-tip's margin of clearance with the runway in the event of roll.
"Wing-tip strikes, particularly during crosswind conditions, are a known risk on the aircraft type that the manufacturer continues to address through publications and training," the inquiry says, pointing out that the design features a long, swept wing and low undercarriage.
UK investigators had probed a similar incident with a Global Express (CS-GLD) that suffered near-identical damage while operating into Biggin Hill in September 2020.
The operator of the jet involved in the Luton event has enhanced simulator training to feature new crosswind landing and low-energy go-around scenarios.
Bombardier has continued to work with pilots and operators over crosswind techniques and has developed a proposal for special-emphasis training to reduce the risk further. The inquiry says this has been undergoing Transport Canada assessment.