Operators of certain Boeing 777 freighters have been instructed to de-activate potable water systems on the aircraft, over the risk of water intrusion into the forward electronic equipment bay.
The US FAA has issued the order after an incident involving a 777F which was receiving potable water servicing on the ground when its operator received multiple crew alerts about affected electronic line-replaceable units.
Examination of the aircraft revealed that a detached joint fitting on a water-supply line had resulted in water spilling onto a filter beneath, saturating it with water which was then blown into the electronics bay by the cooling system.
"The amount and duration of the water spillage are unknown," says the FAA.
But it points out that water ingested by cooling system can circulate to multiple electronic equipment racks and enter the line-replaceable units – resulting in "loss of functionality or inaccurate output" of critical electrical systems.
The aircraft involved had logged 6,000 cycles.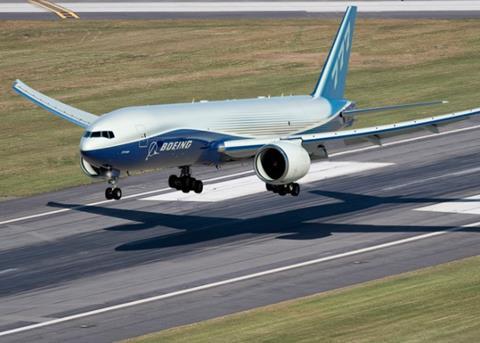 Boeing 777Fs with line numbers of 960 upwards are factory-fitted with the joint, but Boeing has also enabled carriers to retrofit the configuration to earlier aircraft, so the FAA is ordering de-activation of potable water systems on all aircraft with the joint installed within five days.
The airframer is developing a modification to fix the problem, the FAA adds.
Cirium fleets data lists the 777F with line number 960 as a FedEx aircraft, purchased by the US express cargo carrier immediately after its delivery to Air France in September 2011. The operator of the 777F involved in the water-spill incident has not been identified.
Boeing's backlog information shows 202 777Fs have been delivered since the type entered service in 2009. The FAA directive affects 58 US-registered aircraft.