Investigations into the fatal Sriwijaya Air Boeing 737-500 accident earlier this year have spurred an order to operators of older 737 variants to conduct autothrottle checks aimed at detecting possible flap synchronisation component failure.
But the US FAA is stressing that latent failure of the synchronisation wire is "highly unlikely" to have caused the crash, off the coast of Indonesia on 9 January, according to preliminary information from the inquiry.
Over the course of the investigation, however, Boeing has stated that such a failure might go undetected by the autothrottle computer on the aircraft.
Autothrottles on the 737-300, -400 and -500 were the subject of an upgrade in 2001 after incidents in which thrust levers would slowly move apart, generating asymmetric thrust and causing the aircraft to bank excessively and enter a roll.
But the upgraded autothrottles – which featured an asymmetric cruise thrust monitor – do not properly account for possible latent failure of flap position sensors, the FAA says.
This sensor data is one of the logic components necessary for the aircraft's asymmetric cruise thrust monitor to function. Failure of this monitor to activate during a thrust-asymmetry occurrence could result in the crew's losing control of the aircraft.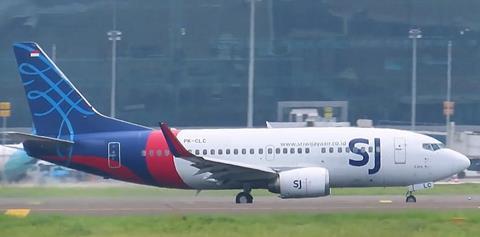 While a thrust-lever split, and asymmetric thrust, have been identified during the Sriwijaya investigation, the FAA is not specifically connecting flap synchronisation wire failure to the accident.
But it says that such a condition "could exist or develop" in the older 737 models and it is ordering operators to carry out a built-in test equipment check on the autothrottle to detect possible failure of the wire.
"This test is currently not required to be performed repetitively, leading to a potential latent failure if the test is not performed regularly," it says.
Boeing issued a message to operators on 30 March specifying procedures for the test and giving a 250h compliance time. But the FAA is adding a two-month deadline, to ensure aircraft with low utilisation rates are covered. It is also requiring repetition of the test every 2,000h.
Cirium fleets data indicates over 770 aircraft remain in operation worldwide. The FAA estimates 143 are US-registered.
It states that the original 737-100 and -200 variants are not affected by the directive because the autothrottle architecture differs.