Indonesian investigators are aiming to publish preliminary findings regarding the Sriwijaya Boeing 737-500 crash in early February, in line with ICAO standards.
Investigation authority KNKT says the flight-data recorder download has yielded information on 370 parameters.
KNKT head Nurcahyo Utomo says the authority hopes to publish a preliminary report on the 9 January accident with 30 days.
Search personnel are concentrating on trying to locate the crucial memory section from the 737's cockpit-voice recorder, after retrieving other components of the device.
Over 50 large sections of aircraft debris as well as nearly 60 smaller pieces of wreckage had been retrieved after nine days of search operations.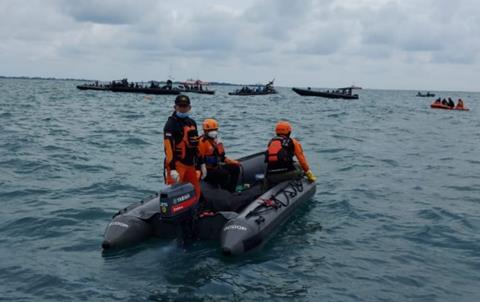 The aircraft came down in water about 11nm north-north-west of Jakarta, between the islands of Pulau Laki and Pulau Lancang, during service to Pontianak.
Indonesian navy divers had previously found the casing for the recorder, which protects the instrument, but the underwater locator beacon has become detached.
Owing to the absence of the beacon, says national search and rescue agency Basarnas, the search "must be carried out manually".
Basarnas has been concentrating the subsurface diving search on a square zone, 30m on each side, centred some 640m east of the last known position of the aircraft.
Water in this area, it says, runs to a maximum depth of 16.4m (54ft).