Russian investigators are expecting shortly to issue the draft final report into the fatal Sukhoi Superjet 100 landing accident and fire at Moscow Sheremetyevo three years ago.
The probe into the accident, which involves several international parties, has been held up partly by restrictive measures on personnel introduced during the pandemic.
In an anniversary update on the 5 May 2019 accident, Russia's Interstate Aviation Committee says that – alongside the primary equipment, such as engines, avionics and weather radar – it has analysed several devices and assemblies in order to extract data from non-volatile memory components that might offer further flight information.
The aircraft was hit by lightning and returned to Sheremetyevo but landed hard, and the subsequent rupture of fuel tanks led to the jet initiated a fire which destroyed the twinjet and led to 41 fatalities.
Multiple systems have been examined in co-operation with various system suppliers, including the engine and generator controls, avionics, fuel controls, radio, and weather radar.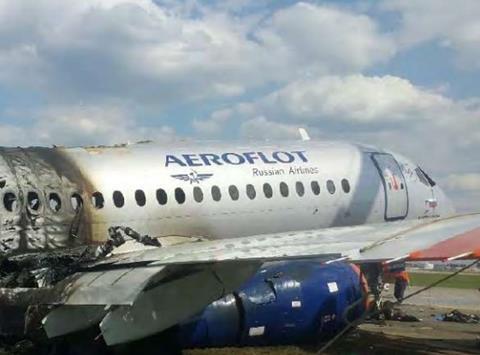 Calculation of loads on the landing-gear during the accident sequence has been conducted along with analysis for compliance of safety structures designed to fail during overload.
The inquiry has mathematically modelled the aircraft's flight and assessed the crew's actions using a full-flight simulator. It has also looked at previous landing accidents – including that of a Yakutia Superjet 100 in October 2018 – and cases of flight controls switching to direct law.
Part of the inquiry has focused on the spread of the fire, by looking at data about the interior of the passenger cabin and the windows, with St Petersburg's state fire service university collaborating with suppliers including Collins Aerospace, Saint-Gobain and Curtiss-Wright.
The Interstate Aviation Committee claims, however, that it has not received complete information on fire-protection units from Curtiss-Wright. Study of the units had already been held up by pandemic restrictions, and a test-stand malfunction, and the inquiry has since been informed that certain decrypted data from the non-volatile memory is being withheld because it comprises intellectual property. FlightGlobal has asked Curtiss-Wright for comment.
Under the circumstances, says the inquiry, investigators will have to prepare the draft final report without the analytical results of this particular piece of data from the fire-protection units.