Swedish and UK authorities have formally objected to the conclusions reached by a US inquiry into the fatal PenAir Saab 2000 overrun at Unalaska two years ago.
The aircraft – arriving from Anchorage on 17 October 2019 – overran while landing on the short runway 13 in a significant tailwind despite an opposite-direction approach being available to the crew.
But the US National Transportation Safety Board concludes that the primary cause of the accident was the undercarriage manufacturer's incorrect wiring of wheel-speed transducer harnesses on the left-hand main landing-gear during maintenance.
The incorrect wiring, the inquiry states, caused the aircraft's anti-skid system to malfunction, resulting in failure of an outboard tyre and loss of braking ability – leading to the overrun.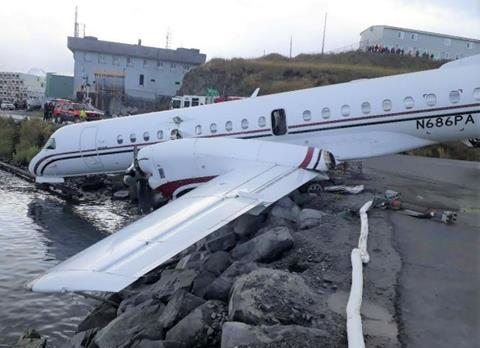 But Swedish investigation authority SHK and the UK's Air Accidents Investigation Branch have jointly submitted a dissenting opinion to the NTSB over its findings.
They point out that the aircraft had made "many successful flights" with the anti-skid anomaly, including several to Unalaska airport, without incident.
"We consider it is the intentional exceedance of the aircraft limits, on a limiting runway, that revealed the previously-hidden latent anti-skid anomaly, and both were required to cause the accident," they add.
The NTSB's conclusion "does not reflect" the cause of the accident "in proportion to their actual contribution", the authorities argue, neither does it highlight the wind conditions – including a 20kt tailwind – at the time.
Continuation bias by the crew to land on the runway in the tailwind, which exceeded the aircraft manufacturer's limits, and the authorisation process that permitted the Saab 2000 to operate at Unalaska were relegated to contributory factors by the inquiry.
But the Swedish and UK authorities believe the crew's "disregard" to changes in the dispatch planning conditions, the aircraft configuration, the "repetitively reported" wind speed which exceeded the aircraft tailwind limitations, and the option of a fully-available into-wind reciprocal runway are the "dominating causal factors" in the accident.
"We believe that addressing the operational aspects of landing in conditions clearly beyond the aircraft limitations will have better and broader effect [on future accident prevention]," they add.