Investigators have determined that a Swiss Airbus A220-100 engine shutdown during climb out of Paris was triggered by a faulty seal leading to a loss of oil pressure.
The aircraft (HB-JBC) was en route to Zurich from Paris Charles de Gaulle and climbing through 22,000ft.
Swiss investigation authority SUST says the crew had received several warning messages about low oil quantity and low oil pressure on the left-hand Pratt & Whitney PW1500G engine.
The crew shut down the engine and proceeded to Zurich where the twinjet landed without further difficulty.
SUST has traced the issue to a faulty O-ring seal on the engine's fuel oil cooler.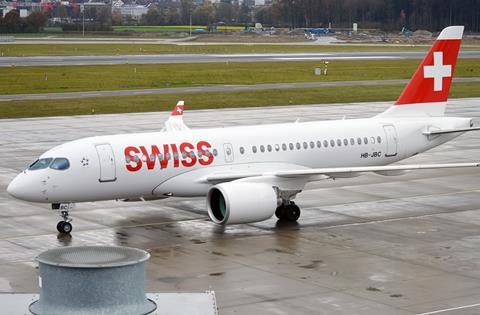 At the time of the incident, on 13 October 2018, a service bulletin was in circulation detailing replacement of a cooler component with one having a longer thread length and tighter torque.
The bulletin had been published four months earlier but was classified as "less urgent", says the inquiry, and had yet to be carried out on the A220 involved.
After the event the urgency level was increased, and a subsequent inspection of the Swiss fleet revealed two more affected oil coolers.
Further service bulletins provided for replacing the oil line leading to the connection, while the US FAA published a directive last year which referred to in-flight shutdowns of PW1500Gs resulting from oil leaks, mentioning the potential risk of fire and requiring gap inspections of the oil cooler and the LP10 oil supply tube.