Investigators believe a take-off performance miscalculation at Luanda meant a TAP Air Portugal Airbus A330neo became airborne at the far end of the runway after a late increase in thrust.
The A330-900 (CS-TUL), with a take-off weight of 191.3t, was bound for Lisbon on 12 April.
Although the twinjet had conducted its take-off from intersection E of runway 23, the crew had carried out the performance calculation assuming the entire runway length.
Portuguese investigation authority GPIAAF says the runway has a length of 3,700m but the initial 1,000m was subject to infrastructure works.
This meant the aircraft had to depart from intersection E, which allowed a take-off run of just 1,900m – a little more than half the normal available distance.
"The crew reported that they performed and revised the take-off calculations several times, however, without identifying the intersection E as the correct take-off position," says the inquiry.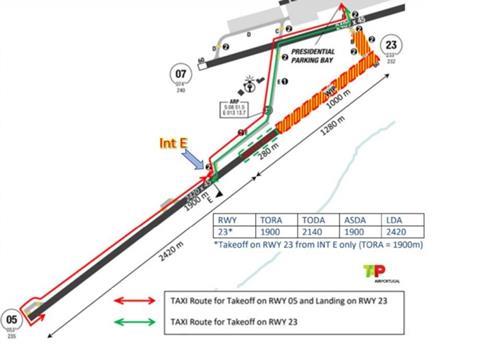 As a result of the miscalculation a 'flex' take-off at 85% of the N1 engine speed was used.
Analysis of the take-off roll found that, as the aircraft reached 147kt, the crew realised the end of the runway was approaching, a\ and this prompted the captain to apply full thrust some 94% of N1 – about 7s before the jet lifted off.
GPIAAF says the A330 reached rotation speed "close to the end" of the runway and become airborne "at the edge" at 163kt.
"The cabin crew informed the cockpit that dust was observed outside the aircraft during rotation, a condition confirmed by the control tower after [being] contacted by the flight crew," it adds.
No further problems affected the aircraft and it proceeded to Lisbon. None of the 148 passengers and 10 crew members was injured.
GPIAAF says the operator had developed procedures to help mitigate risks at Luanda while runway works were in progress, publishing them in late February.
These measures included scheduling flights during daylight hours – as was the case for the aircraft involved in the incident.
Captains were required to have 500h on the aircraft type in order to operate the route, and captain-only landings were mandatory. A diagram of the taxiing routes at Luanda were also included in briefing material.