French investigation authority BEA has opened an inquiry into the runway excursion at Montpellier involving a Boeing 737-400 freighter operating on behalf of West Atlantic.
The aircraft came to rest with its nose in the water off the end of runway 12L following a service from Paris Charles de Gaulle on 24 September.
BEA has identified the airframe as EC-NLS. The aircraft was originally delivered to British Airways in 1993 and subsequently converted to a freighter before being transferred to the fleet of Spanish operator Swiftair.
The government of the local Herault department says the airport was closed after the accident which occurred at 02:50.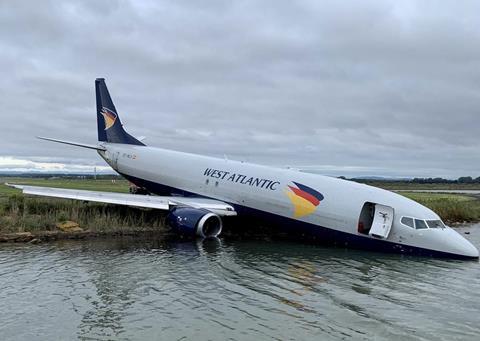 It says the aircraft landed but "left the runway to end up in the lake". The body of water Etang de l'Or is situated some 200m off the end of runway 12L.
All three occupants were uninjured and were assisted by emergency services.
The government says the aircraft was left "partly submerged" at the nose.
Meteorological data from the airport indicates rain and mist, with reduced visibility, and variable winds, including crosswinds from the left.
Montpellier airport was closed in order to allow the aircraft to be removed with specialist equipment.