Nepalese investigators have attributed a fatal take-off excursion, involving an Aircraft industries Let L-410, to differential thrust following retardation of one throttle lever – but have been unable to determine the reason why the lever slipped back.
The Summit Air turboprop had commenced its take-off roll from Lukla;s runway 24, with the first officer flying, but within 3s the aircraft started veering to the right.
It left the runway, travelling along grass, before hitting an inner perimeter fence and careering into a helipad, fatally striking two ground personnel and colliding with a helicopter. The L-410's first officer received fatal injuries from the helicopter's rotor.
Nepal's Aircraft Accident Investigation Commission found that, about 2s after the aircraft's brakes were released for take-off, there was an "abrupt shifting" of the right-hand throttle lever rearwards.
But the inquiry into the accident, on 14 April last year, says the specific reason for the sudden lever shift "couldn't be identified".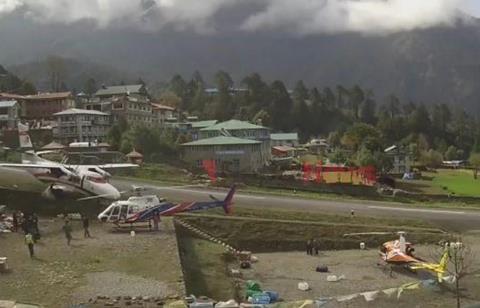 The probe was hampered by an absence of cockpit-voice recorder information – which the inquiry believes resulted from incorrect installation of the recorder – as well as a lack of recordings from the control tower.
Investigators instead relied on surveillance camera footage, interviews with controllers and the surviving pilot, and flight-data recorder analysis.
The inquiry says the captain, as an instructor pilot, handed over controls for take-off to the first officer after line-up.
According to the captain, the aircraft had some previous technical issues regarding the "friction lock and power lever", and that normal practice involved keeping a hand on the throttle during the take-off roll.
But the inquiry says the first officer removed his hand from the throttle to hold the control column, and that the captain did not use his own hand to guard the throttle position.
Flight-data recordings indicate that, at brake release, the engines' propeller speeds were the same but the right-hand torque was higher than the left. But the right-hand engine speed and torque began to fall moments later, and the aircraft veered towards a steep slope 28m from the threshold.
"When [the captain] realised that the aircraft was veering towards [the] right, he took over the aircraft controls from the [first officer]," says the inquiry.
While he understood the right-hand throttle was shifting backwards, he advanced it in a bid to correct the L-410's course and applied foot braking. But the right brake proved to be "more effective", the inquiry says, and this exacerbated the aircraft's tendency to veer to the right.
Only three occupants had been on board the L-410. The captain and a flight attendant survived.
Investigators point out that there was evidence of "complacency" from the crew, possibly arising from the operation of repetitive short flights on the same sector in a lightly-laden aircraft with fair weather.