Brazilian investigators are probing a runway excursion involving a LATAM Airlines Airbus A321 during landing at Florianopolis on 12 July.
The aircraft, operated by LATAM's Brazilian division, had been conducting the LA3300 service from Sao Paulo but suffered a "lateral deviation" after landing on runway 32, according to the airline.
All 172 passengers and seven crew members safely disembarked the twinjet after it came to rest.
The incident occurred at about 09:20. Meteorological data from the airport indicates heavy rain and thunderstorms, as well as reduced visibility, at the time.
Surveillance video captured the event, showing the aircraft sliding off the left side of the runway at relatively slow speed. It came to rest perpendicular to the runway axis with its nose-wheel on rough ground. The extent of damage to the jet has yet to be confirmed.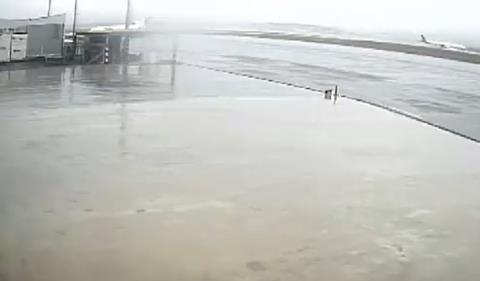 Florianopolis's operator has identified the aircraft as PT-MXM, an International Aero Engines V2500-powered airframe, delivered new to the carrier in early 2014.
After recovery equipment arrived, personnel began work at around 22:00 to remove the aircraft which had been blocking runway 14/32 and forced the closure of the airport.
This has resulted in flight disruption at Florianopolis at least until early on 13 July. At least 66 flights have been cancelled, according to the airport operator.
"All causes of this incident will be officially disclosed by the competent authorities, with which the company is co-ordinating," says LATAM.
"The company adopts all technical and operational measures necessary to guarantee a safe operation for everyone."
Florianopolis airport is managed by Zurich Airport Brasil, which states that it is working to ensure the airport re-opens as soon as possible.