Air-ground communications from the crew of a Boeing 737-200 which ditched off Honolulu on 2 July indicate the pilots were dealing with an engine failure and believed the other engine was also on the verge of failing.
Shortly after the twinjet – operated by Rhoades Aviation for Transair – had departed Honolulu and been cleared to 13,000ft, the pilots informed air traffic control that the aircraft had "lost an engine" and they needed to "run a checklist", but were not ready to return to the airport.
The tower controller asked the crew to maintain 2,000ft while they dealt with the situation.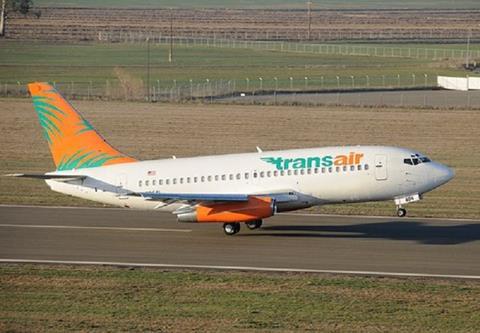 But the aircraft subsequently began to lose height and the crew, flying in darkness over water, sought north-east headings to return to Honolulu, informing the controller that the left-hand engine had failed and they were "going to lose the other engine, it's running very hot".
Such was the loss of height that the tower controller issued a low-altitude alert to the pilots, and asked whether the aircraft was able to climb – to which the crew replied that they were unable.
Having requested attendance by the airport's fire department, and been told firefighters were on their way, one of the pilots asked: "You want to let the Coast Guard know as well?"
With the situation deteriorating rapidly, the controller cleared the aircraft to land on any runway at Honolulu, then asked if the crew wanted to try for Kalaeloa airport about 3nm to the north-west of their position.
"We'd like the closet airport runway please," one of the pilots replied.
After giving the crew a heading which required a left turn towards Kalaeloa, the controller informed them that the airport's lighting was pilot-controlled and gave the frequency. But no further transmissions, archived by LiveATC, were received from the 737.
The aircraft ditched in the water about 2nm south of Kalaeloa at about 01:40. Both pilots, the only occupants, survived the accident and were picked up by the Coast Guard and Honolulu fire department using an Airbus Helicopters MH-65 Dolphin and rescue boat.
US investigators have yet to determine the nature of the engine problem which apparently affected the Pratt & Whitney JT8D-powered jet, whether one or both engines were involved, the details of the crew's response, and the cause of the crash.