Indonesian investigators have determined that a Trigana Air Service Boeing 737-300F captain dismissed go-around suggestions during a visual approach in poor weather, before a hard landing that destroyed the aircraft's undercarriage and caused it to veer off the runway.
The twinjet (PK-YSY) was conducting a visual approach to Wamena airport's runway 15 on 13 September 2016.
Indonesian investigation authority KNKT states that the airline's visual-approach guidance for the runway stipulates that a go-around is required at 2.8nm distance, about 1,000ft above ground, if the conditions do not allow a safe landing.
Visibility at the time was around 3km, whereas the approach criteria demanded 4.8km and a cloud ceiling of 1,000ft. Cockpit discussions showed the pilots were uncertain about whether they could see certain visual reference points.
"This indicated that the weather was not suitable for approach under [visual flight rules]," says the inquiry.
The aircraft did not abort the approach at 1,000ft but continued to descend to around 400ft, at which point the descent was temporarily halted for 21s.
Investigators state that the pilots "had not seen the runway" but the captain, who was flying, did not accept the first officer's call for a go-around.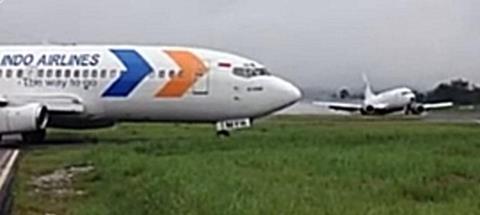 The inquiry found that a preceding aircraft had successfully landed and this increased the captain's confidence that the 737 could similarly complete the approach.
Flight-data recorder information shows the captain eventually saw the runway and increased the aircraft's descent rate. The jet breached stabilised approach criteria, pitching to 11° nose-down, rolling up to 28° right, and reaching a descent rate of 3,200ft/min, triggering a 'sink rate' warning.
Still descending at 2,300ft/min, it touched down at 137kt about 125m after the threshold, with an impact of 3.25g, causing both main landing-gear assemblies to collapse and the left-hand one to break off.
The engines and the fuselage underside contacted the runway surface and the aircraft veered to the right, stopping just under 1,900m from the threshold.
While the 737 was badly damaged, none of the three occupants – two pilots and a loadmaster – was injured.
Investigators have attributed the accident to the pilot's "confidence" that a safe landing could be achieved and his "disregarding several conditions" which required a go-around. The crew had a high experience gradient, the captain having over 23,800h against the first officer's 650h.