Investigators probing an unreliable airspeed incident on a Boeing 737-800 have traced the event to technicians' using transparent film, instead of high-visibility stickers, to protect static ports during storage.
High demand for the orange stickers, as a result of the large number of aircraft being stored, meant none was available when the TUIfly Belgium jet (OO-JAV) was parked for six days last year.
It departed Amsterdam Schiphol for Madeira on 3 October 2020, its first flight since being retrieved from storage.
But as it climbed through 8,000ft the first officer, who was flying, noticed a 15kt change in indicated airspeed and, at 11,000ft, both pilots observed a 400ft altitude discrepancy between their primary displays and the standby altimeter.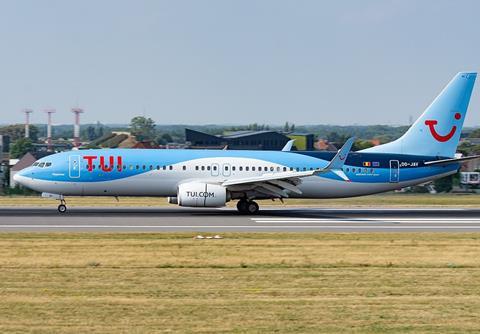 The 737 reached its cruising altitude of 36,000ft and the crew carried out an unreliable airspeed check to assess the situation, initially concluding that the altitude data on the captain's side was reliable.
Having reached western Normandy, the crew decided to return to Amsterdam, at which point the pilots realised that the captain's altimeter was displaying "erratic" information, says the Dutch Safety Board in a quarterly bulletin.
The pilots carried out further checks and decided that only the standby flight display was showing reliable data.
They used this instrument to conduct a safe landing, after which they discovered that the static ports on both sides of the aircraft were partly covered with transparent plastic and tape.
The safety board says the maintenance teams, when placing aircraft in storage, would normally have been provided with ready-to-use orange stickers to cover the static ports.
"However, these stickers were no longer available at the service location," it says. "Flight restrictions caused by the [pandemic] had resulted in a large number of aircraft being in storage and this meant that the demand for these stickers had surged."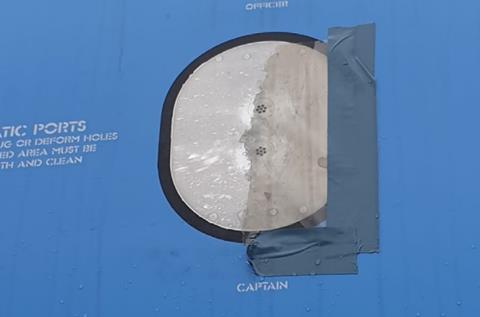 The technicians improvised with available materials, including clear plastic film and adhesive tape which was the same colour as the aircraft's hull.
Maintenance manuals described how covers could be manufactured for static ports, specifying the use of orange tape and the attachment of an orange streamer, as well as the inclusion of a 'static ports covered' label on the captain's control column to alert the crew. The technicians, however, were unfamiliar with this procedure.
When the aircraft was returned to service, poor lighting and the colours of the plastic and tape meant the static port cover on the right side remained unnoticed by both the maintenance personnel and the pilots.
Investigators point out that expectation bias – the assumption that the ports would be protected with orange covers with streamers – contributed to the failure to see the obstruction.
Despite the presence of cloud during the 737's flight, the crew was able to maintain attitude and directional control of the aircraft. But the safety board warns that unreliable indications in adverse conditions, with visual references such as the horizon obscured, can exacerbate a difficult situation.