UK investigators believe pandemic-related interruptions to a first officer's flight training probably contributed to a Boeing 737-800 tail-strike incident on take-off from Manchester earlier this year.
The first officer rotated the TUI Airways jet too rapidly on departure from runway 23R, causing the tail to contact the ground, and the aircraft subsequently returned to the airport for a precautionary landing.
Inspection revealed only minor damage to the tail skid and aft drain mast on the 10-year old jet (G-TAWY).
According to the UK Air Accidents Investigation Branch, the first officer was undergoing line training during the 9 March service to Fuerteventura.
The inquiry says his training had been "disjointed" as a result of restrictions imposed by the pandemic, and this was "likely to have made it harder to learn and retain the correct take-off technique".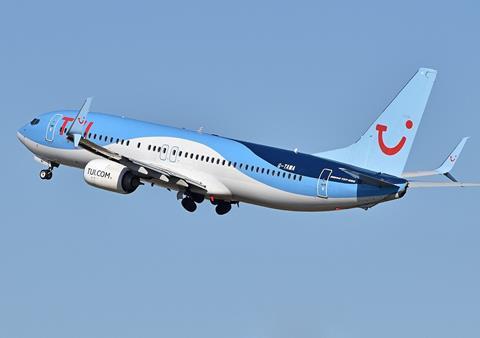 He had joined the carrier in 2019 and completed an operator conversion course in March 2020, the month in which the Covid-19 pandemic began to affect worldwide air transport.
Training was interrupted and various delays meant his first two line-training sectors were only completed in January this year, and the third and fourth on 7 March.
The Manchester-Fuerteventura flight, two days later, was his fifth sector at which point he had recorded around 15h on type.
Investigators state that, during the first few sectors, the first officer's rotation rate was observed to be "slightly slow" – whereas it needed to be around 2-2.5°/s – and he was allowing the rotation to "stagnate" at about 10° nose-up rather than ensuring continuous rotation to the 15° target.
"It is likely that trying to correct these issues contributed to the rapid rotation rate," says the inquiry, adding that a crosswind during the take-off might have increased workload. The crosswind on the takeoff might have further added to co-pilot's workload.
TUI told the inquiry that the first officer's training complied with the bespoke package it had developed to adapt to the circumstances of the pandemic.
"The operator recognised that the delays during his training had not been ideal, but this had been considered when assessing his training need," the investigation states.
TUI points out that he was given additional simulator time and his training included flying 10 sectors with a captain qualified to oversee zero-time pilots – even though the first officer had completed base training, flying the aircraft without passengers.
Average rotation rates are monitored as part of TUI's safety-management system, and there is no concern regarding this data for the airline's 737 fleet, says the inquiry.