Canadian investigators have disclosed that both pilots of a De Havilland Dash 8-400 were jolted from their seats during a severe turbulence incident en route to Windsor.
The incident involved an Air Canada Express service – operated by Jazz, with 50 passengers and four crew members – from Toronto on 15 July.
Canada's Transportation Safety Board states that the aircraft was flying at 12,000ft, some 61nm northwest of Windsor, when the event occurred.
As a result of the turbulence, it says, both the captain and first officer were "dislodged from their seat" and the autopilot disconnected.
This led the turboprop to gain 300-500ft in altitude.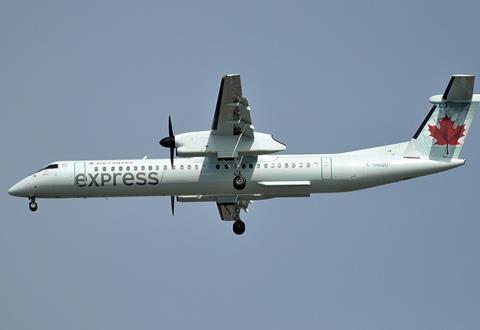 The first officer struck his head, while the turbulence also resulted in a cart hitting a flight attendant.
Investigators state that the aircraft (C-GJZN) proceeded to its destination, where it landed safely, and an inspection revealed no damage or faults. The same crew carried out the return service to Toronto.