Ukrainian investigators have concluded that a Turkish Airlines Boeing 737-800 crew used an inadvisable technique to land during a strong crosswind, failing to maintain directional control before an excursion which badly damaged the aircraft.
The aircraft (TC-JGZ) had been conducting an ILS approach to Odessa's runway 16 on 21 November last year, following a service from Istanbul.
Its crew had already executed a go-around after destabilisation of the previous approach to the same runway.
Meteorological information compiled at 20:32, just over 20min before the accident, showed variable winds from the north-east to south-east at 19kt but gusting to 33kt.
Ukrainian investigation authority NBAAI says Odessa air traffic control provided the crew "several times" with only average wind direction information, without informing of its "significant deviations".
The inquiry says the captain was flying at the time of the landing.
It states that, with over 5,600h on 737s, he was far more experienced than the first officer, who had just 175h. But he did not discuss with the first officer which crosswind landing technique would be used, nor did the two pilots talk about other aspects of the touchdown including reverse-thrust and braking.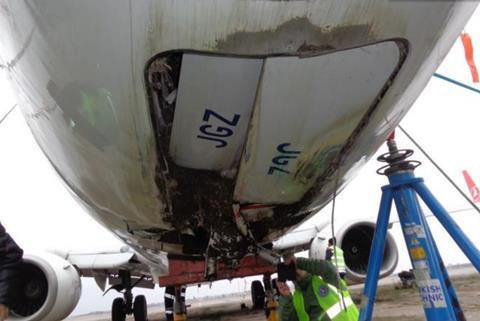 Investigators found that the crew attempted a touchdown "in crab" – a technique whereby the aircraft counters a crosswind by deliberately misaligning from the runway heading, until the point of touchdown.
But the inquiry says this technique is "not recommended" for landings on a dry runway, according to the 737-800's flightcrew training manual.
Crabbed landings require rudder input after main-gear touchdown, in order to re-align the aircraft with the runway axis before the nose-gear is lowered, while the ailerons are deflected in the windward direction.
"However, the crew did not do so," says the inquiry. Instead the Turkish aircraft de-rotated while on a heading of 151°, some 6° to the left of the runway axis. The crew also "prematurely" applied reverse-thrust before turning the aircraft parallel, the inquiry adds.
Once the nose-gear made contact, the investigators state, it was "difficult" to turn the aircraft back to the correct course, exacerbated by the "significant" landing weight of 63t.
The aircraft deviated to the left and veered off the side of the runway, travelling on rough ground for 550m and destroying the nose-gear, before returning to the runway with its forward fuselage in contact with the surface.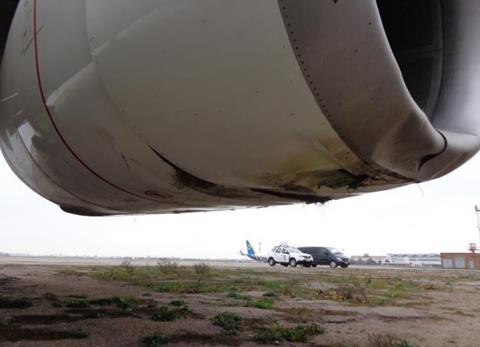 It came to a halt 1,612m from the threshold, having suffered substantial damage to its fuselage underside, its engines – particularly the left-hand powerplant – and its undercarriage.
Passengers were evacuated from the aircraft, but none of the 142 occupants was injured in the course of the accident.