Operators of British Aerospace Jetstream turboprops are set to be told to fit a stronger rod to the type's gust-lock system, to prevent the possibility of the throttle levers being advanced while the locks are engaged.
Gust locks are designed to prevent damage to control surfaces while the aircraft is parked in gusting wind conditions.
The UK Civil Aviation Authority is planning to order the modifications after an incident at Munster in October 2019 during which a Dutch-registered Jetstream 32 veered off the runway after aborting take-off at about 130kt.
"Investigation into the serious incident concluded the take-off was initiated with an engaged gust-lock mechanism, resulting in a temporary loss of aircraft control," says the authority.
"Damage was identified in the gust-lock mechanism, which allowed both power levers to be moved beyond flight-idle with the gust locks engaged."
It says a bent control rod had enable the crew to advance the throttles simultaneously to their maximum setting – something which should not be possible if the gust lock system is functioning properly.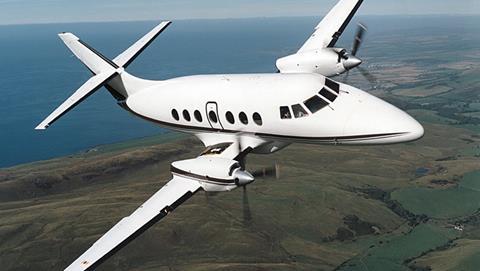 Three previous similar occurrences have been identified. The authority says a service bulletin was initially published almost 30 years ago to introduce a stronger control rod.
The CAA intends to mandate the push-rod modification for Jetstream 31 and 32 turboprops up to MSN936, with the exception of a single airframe. Aircraft from MSN937 onward had the modification as standard.
Operators will be required to carry out the change within two years.